August 15, 2013
Comments Off

on ipsy August Glam Bag Review
With infinite beauty product combinations in the marketplace, choosing the best items for your needs can be a challenge! That was why Michelle created ipsy. Michelle and her team of stylists have selected products they love, for you to try.
Each month, subscribers will receive a beautiful Glam Bag with deluxe samples and full-sized beauty products. Members can watch and play along with the stylists with the same products that they are using. All for only $10 a month.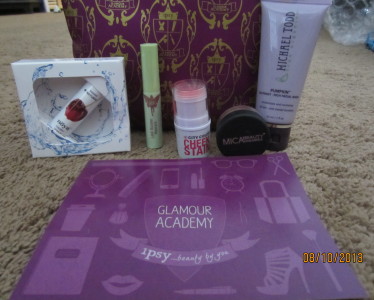 I have really started to enjoy getting this subscription and look forward to every month.  I liked what I saw when I opened up the package to check out all of my goodies.
This is what my package looked like when I opened my mailbox.  It came in a pretty pink bubble wrap package.
When I opened the package it was a purple and gold make-up bag, not my favorite design.  It came with this postcard titling this month as "Glamour Academy."  The postcard contained the companies who contributed to this month and discounts available.
Noya Cherry Lip Balm($3.99)-Cherry flavored lip balm in a lightweight, all-natural formula that moisturizes your lips while at the same time packs a full punch of flavor. And because it's natural, you can lick your lips as much as you want.  This lip gloss was to die for.  I really liked the way it went on and tasted good too.
Micheal Todd True Organic-Pumpkin 1 fl. oz.($34/3.4 fl. oz.  (if you did a cost breakdown 1 oz would cost $10))- This mask smells so much like fresh pumpkin it's amazing. That tingle is the pumpkin enzyme combining with glycolic acid to go to town on your skin's flaws dissolving impurities like dead skin and clogged pores. Adds brightness and radiance to the skin and significantly improves the appearance of fine lines and wrinkles after a single use.  I have not used this yet, but cannot wait to try it.
Mica Beauty Cosmetics-Shimmer Powder-Bronze 17($9.99) – Glamorous shimmers that give you the look you always wanted.  Shimmers can be used not only as eye shadow, but also mixed in with lip gloss, nail polish, body sprays… the possibilities are endless. The variety of shimmer colors guarantees you'll find the perfect shade for you.   This is what the description is, not so sure if I would want this in my lip gloss or nail polish.  I think it would look like sandpaper nail polish.  That could be a great new fabrication of nail polish.  Maybe I should get a patent on that!  My sister loves shimmer powder and will take this off my hands no problem.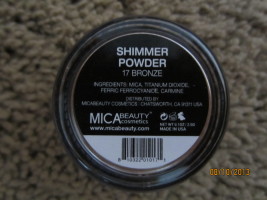 Pixi Lash Booster Mascara($17)- This unique mascara truly boosts your lashes, giving them a "push-up" effect that lasts all day. The cone-shaped brush coats each lash evenly for the ultimate smudge-free, waterproof lash & eye definition. Available in intense eye-opening shades, including the revolutionary "blackest blue" that awakens the eyes and makes the whites of the eyes appear whiter.  I gotta tell you I love mascara and have only used Estee Lauder for about the last 10 years (the samples I get when B buys his cologne he buys enough cologne that I have never run out of the samples).  This could make me change brands.  I am definitely going to try this.  For $17 I will give it a try, to spend $17 on mascara that I may wear once every two weeks, no way.
City Color Cosmetics Cheek Stain-Pink($2.99)- City Color Cosmetics Cheek Stain adds the perfect flush for a natural glow. Swipe your cheeks with 6 different hues.  I tried this on my hand and it is definitely too pink for me.  I think I will pass this on to someone in my family.
Make-up bag($3)-This make-up bag was definitely not my taste.  Actually, I think it was ugly!  It reminds me of the 80's emblem that you would see on so many shirts.  If this was at the $1 store I wouldn't buy it.  So that is why I only valued it at $3.
All in all the total of this ipsy bag of cosmetics comes to $43.97 (not including the make-up bag).  With this bag of makeup only costing $10, I would say it is totally worth it, this has been one of the higher priced bags I have received.  While I will not be using all of the products in this month's bag (bronze shimmer and cheek stain), the mascara alone makes it worth it.  I really liked the lip balm and cannot wait to try the mask out.  I am going to continue to get ipsy and see what next month brings.  If you are interested in subscribing to ipsy, click here, and help me get a bonus gift next month.
Disclousure: This posts contains referral links, which means if you order a subscription through my links it helps me to earn bonus gifts!
Disclaimer: I have never claimed to be any great writer. So any mistakes that are made are my fault. Sometimes I mix up names B, S, and P, but I think you can figure out who I am talking about. If you find any grammatical errors just fix it in your mind so it sounds right.