October 22, 2015
Comments Off

on Got Me Tipsy Wine Glasses Review
Disclaimer:  I received this product for free or highly discounted in exchange for an honest review.  All thoughts and opinions expressed are mine.
It has never been a secret that I don't drink alcohol.  Not that I haven't tried, I just never liked the taste of it.  When we go to family functions on my side of the family my mom gives everyone wine glasses to drink out of.  Of course, mine always had water or punch in it like the kids.  These glasses would be perfect for family functions or nights after a bad days work.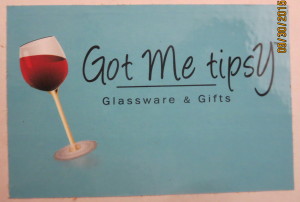 The "My Therapy" wine glass would be perfect for family functions.  Although my glass would be filled with water or punch it would say everything I was thinking walking around the house.  Although now that we have a new family dynamic I don't think I would need the glass for two reasons.  I don't see us drinking out of wine glasses anymore because let's be honest we don't need to unless we are drinking wine, and two there seems to be this harmony and ease when we are together that wasn't there before.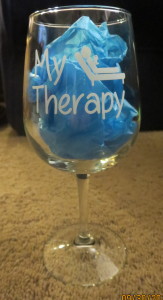 The "What Night?" wine glass says it all when you come home from a bad day at work.  There are three different levels that you can fill your glass up to What Night?, Great Night, or Good Night.  If the glass was a "Good Night" to me that would indicate you want to remember your night and had a good day.  The "Great Night" would say my day was good but I want a good night, too.  The "What Night" is saying I had a bad day and don't want to remember what happens tonight.  If everyone had a glass like this at parties it would definitely tell how you were planning to have your night go.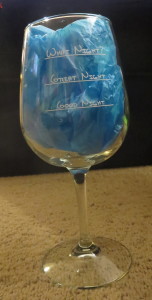 The Got Me Tipsy My Therapy Wine Glass  and the Got Me Tipsy What Night? Wine Glass are only $14.95 each on Amazon.com.  Click here to order the My Therapy glass and here for the What Night? glass. #GotMeTipsy
I was chosen to review the Got Me Tipsy Wine Glasses through Tomoson.com.  Basically how it works is you select items you would like to review and if they chose you, the product is purchased through Amazon.com.  If you have a Prime Account with Amazon shipping is free and a coupon code is provided from the company making the product free or highly discounted.  In exchange they are looking for an honest review on their product.
Disclaimer: I have never claimed to be any great writer. So any mistakes that are made are my fault. Sometimes I mix up names B, S, and P, but I think you can figure out who I am talking about. If you find any grammatical errors just fix it in your mind so it sounds right.