August 31, 2016
Comments Off

on Gearing Up for Soccer Season
Disclaimer:  I received this product for free or highly discounted in exchange for an honest review.  All thoughts and opinions expressed are mine.
S is getting ready to start fall soccer.  With the soccer season upon us it is time to start to get my gear ready so I can sit through those practices and games whether it is super-hot, windy, rainy, or the dreaded snowing.  I found that with P I really need a blanket so she can crawl around and not be confined to a chair or her stroller.  We somehow need to have cover for those days when it is sunny, windy, rainy, or cold.  The perfect cover is a pop-up tent.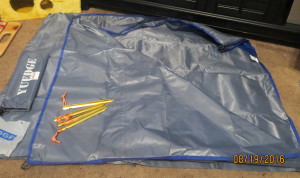 At early morning soccer games you have to contend with dew on the grass and getting wet if you sit on a regular blanket.  I needed a blanket that was easy to take with me and one side would be water resistant to keep up dry.  This blanket is big enough to hold up to 6 people with room to spare.  Each corner of the blanket has a loop so the blanket can be pinned down with the stakes provided.  This will help on those days when you don't need cover but need to keep the blanket in place.  This blanket also will be perfect to put under a pop-up tent to get cover from the ground and cover from the sky.  The Yuedge Lightweight Water Resistant Foldable Picnic/Beach Blanket is $21.99 on Amazon.com.  #blanket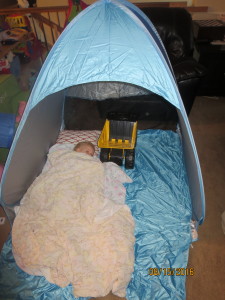 A pop up tent is great to cover us from so many different types of weather.  If it is sunny, the fabric is silver coated on the inside with a 50+ UV protection.  If it is windy there are 6 steel stakes included to keep the tent secure to the ground and not blowing away.  With the 3-sided shelter it can prevent rain from getting us wet or keeping the snow off us on those odd days when it snows.  The tent was super easy to set-up and take down.  The kids have also enjoyed using it indoors to play with.  The Sportneer Potable Pop Up Beach Tent Sun Shelter is $24.99 on Amazon.com.  #BeachTent
I was chosen to review the blanket and pop-up tent from Amazon through Tomoson.com.  Basically how it works is you select items you would like to review and if they chose you, the product is purchased through Amazon.com.  If you have a Prime Account with Amazon shipping is free and a coupon code is provided from the company making the product free or highly discounted.  In exchange they are looking for an honest review on their product.
Disclaimer: I have never claimed to be any great writer. So any mistakes that are made are my fault. Sometimes I mix up names B, S, and P, but I think you can figure out who I am talking about. If you find any grammatical errors just fix it in your mind so it sounds right.