November 8, 2013
Comments Off

on Friday's Letters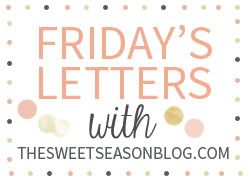 I linked up with Ashley over at TheSweetSeasonBlog.com for Friday's Letters. Enjoy my Friday's Letters.
Dear S, Let me explain the "deal" again to you.  If you sleep in your room all night you get a star in the morning.  When you fill the board up (42 stars required) you can finally get the fish tank for your room.  I know you came in my room yesterday morning so happy you slept in your room all night, and while you did I meant by yourself.  Having mommy come in their 3 different times to lay down with you until you fall asleep does not count as sleeping in your room all night by yourself.
Dear B, Thank you for letting me sleep in yesterday since S had me up half the night trying to get him to stay in his bed all night.  I needed the extra sleep and enjoyed it so much.  I was in such a good mood I even made dinner for you!
Dear Halloween, I cannot believe how dark it was trick-or-treating.  You really did need a flashlight to even be able see where you were going.  If S got more than like 15 to 20 ft. in front of me I had a hard time seeing him and I was in town.  I ended up using the light on my phone as our flashlight just so we didn't trip on the sidewalk.
Dear Lady walking her dog during Trick-or-Treating, Thank you for the good laugh when F (S's cousin) said, "Look they dropped their candy; let's go help them pick it up."  No thank you, I had to tell F that they were not picking up candy but remnants from the dog.  The lady and I got a good laugh; F did not think it was funny until I told her what the lady was actually picking up.
Dear Walmart.com, Thank you for the screw up this week with your pricing.  I was worried I was going to get one of your $10 gift cards, but nope I got what I wanted.  I got the Imaginext Bat Cave for only $7.64 (reg. $55).  I am sure B's cousin's boys are going to love this.  B was amazed I only paid $8 with tax for something this big.
Dear Glee, Not loving all the Lady Gaga and Katy Perry outfits that the cast was wearing.  The Katy Perry outfits were not appealing.  I hated the Katy Perry bra's the girls were wearing, not cute at all.
Disclaimer: I have never claimed to be any great writer. So any mistakes that are made are my fault. Sometimes I mix up names B, S, and P, but I think you can figure out who I am talking about. If you find any grammatical errors just fix it in your mind so it sounds right.