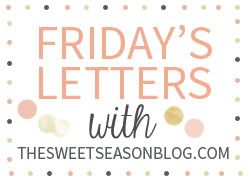 I linked up with Ashley over at TheSweetSeasonBlog.com for Friday's Letters. Enjoy my Friday's Letters.
Dear S, You never used to have chapped lips or the skin above or below your lips, but this fall it has been out of control.  Ever since we got rid of the binkies this past summer you lick your lips so much you are making them chapped and super red.  Try not to like your lips so much and put more chapstick on when you need it.  Asking me for a smooch so you can have some of my chapstick rub off on your lips is not enough.  I am happy to give you all the smooches you want but you need to put on your own chapstick.
Dear B, Thank you for cooking the pot roast in the crock pot outside.  I hate the smell of the pot roast cooking in the house, but love to reap the rewards.  Today was the best of both, I didn't have to smell it cooking but got to eat the oh so good food from the crock.
Dear Baby A, I find it hilarious when I took you to the zoo yesterday during S's zoo school and we went to look at the orangutans and they kept scaring you.  Since we got to the zoo so early there was really no one else there so you had their full attention.  Every time one of the orangutans close to the window moved you would jump.  So funny to watch!
Dear Target, I decided to make a late night trip last night to Target and was so happy that I did.  I did not leave my house until 8:45 pm so I knew I had to make it a fast trip before you closed.  I found some Turbo snails and more.  Thank you!
Dear Disney World, Even though S has been begging to come and see where Mickey lives, I am not sure it is going to happen anytime soon.  I love Disney World, but it cost so much and I am not sure if it is worth it because really is S going to remember any of this when he is older?
Dear Justin, I am so happy I got to see the real Verlander pitch last night.  Where have you been all season (and my life for that matter)?  I guess it doesn't really matter, you showed up when we really needed you.  I love to watch you dominate that mound!  Keep up the good work. (I'll see you in my dreams, my dream husband, lol!)
Disclaimer: I have never claimed to be any great writer. So any mistakes that are made are my fault. Sometimes I mix up names B, S, and P, but I think you can figure out who I am talking about. If you find any grammatical errors just fix it in your mind so it sounds right.