August 16, 2013
Comments Off

on Friday's Letters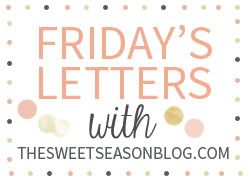 I linked up with Ashley over at TheSweetSeasonBlog.com for Friday's Letters.  Enjoy my Friday's Letters.
Dear S, I told you the wait would be worth it.  I'm glad to see how much fun you are having up at Uncle J's cottage.  Getting to play with your cousins has been a real treat.  I think your favorite is playing on the beach and swimming.  Maybe just maybe you will get to tube behind the boat before we head home.
Dear B, Thank you for taking the time to pack up the truck by yourself and then unpack it when we got to the cottage.  However, I am not so happy with the canoe having an infestation of spiders and then getting them on my life jacket.  A big shout out for being my hero and catching the water snake when it swam right in front of S in the water and taking care of it.
Dear Water Snakes, I thought we had a deal; you stay away so I do not have to see you and we will get along just fine.  I am not happy with the fact that I saw you slithering through the water next to the dock.  Thanks for freaking me out and keeping me out of the water for the rest of the week.
Dear Target, Thank you for the treat on Sunday, and please don't treat anyone else before I can make it to you on Friday afternoon.  Let's keep this relationship monogamous.
Dear S's cousins, Thank you for playing with S so nicely all week.  He really enjoyed having other kids to play with and not just his mom and dad.
Disclaimer: I have never claimed to be any great writer. So any mistakes that are made are my fault. Sometimes I mix up names B, S, and P, but I think you can figure out who I am talking about. If you find any grammatical errors just fix it in your mind so it sounds right.