August 9, 2013
Comments Off

on Friday's Letters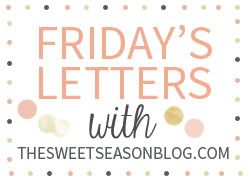 I linked up with Ashley over at TheSweetSeasonBlog.com for Friday's Letters.  Enjoy my Friday's Letters.
Dear S, I am so glad you had a great time at the derby's this week.  I'm not sure if you liked the funnel cakes or the derby more.  I know I did not buy you a funnel cake, but you kept getting pieces from anyone you gave that cute face too.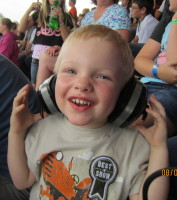 Dear B, I am glad you had fun going out for a work dinner.  Thank you for thinking of me and bringing me home dessert.  It was yummy.
Dear Target, You don't disappoint.  Yesterday S and I went to two different Targets.  At one store we found snow cone syrups for $.88, which will be perfect to use with that snow cone maker I got during the summer clearance 90% sale.  I also was excited to find two more Turbo Taco Trucks to go with the other Turbo playsets I got to complete Christmas gifts.
Dear Shipshewana, I now remember why I have not gone to visit you for 3 years and 4 years before that.  You used to be this awesome place to shop for crafts and flea market finds.  Now it is basically just cheap stuff.  Same type of stuff you find at Dollar General, Family Dollar, Dollar Tree, and Big Lots.  You know the stuff you would find vendors selling on the streets of New York.  Those sunglasses that are supposed to be authentic "Oakley's," yet you know they aren't.
Dear Big Brother, Why did Judd get voted off last night?  I am sure we will get more information Sunday night or I can look at the spoilers to find out more.  It just didn't make any sense.
Dear Late Night with Jimmy Fallon, I am including you again.  Thank for the Pringles this week.  If you watch his show you know what I am talking about.  I love it and cannot wait for the "Thank You Notes" tonight.  It is so funny.
Disclaimer: I have never claimed to be any great writer. So any mistakes that are made are my fault. Sometimes I mix up names B, S, and P, but I think you can figure out who I am talking about. If you find any grammatical errors just fix it in your mind so it sounds right.