July 5, 2013
Comments Off

on Friday's Letters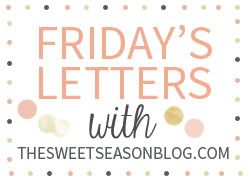 I linked up with Ashley over at TheSweetSeasonBlog.com for Friday's Letters.  Enjoy my Friday's Letters.
Dear S, I am so glad you had fun going to all of the firework displays this past week.  It was a treat to be able to take you to all of them.  You were such a big boy when it came to waiting for the fireworks.  We always got there at least two hours early and you just played and behaved for two hours every time.  I am sure it helped that I brought stuff to do, but you didn't throw any fits which is great.
Dear B, So glad you liked both pies I made you this week.  The cherry pie you shared which was nice with co-workers, my parents and yours.  I think it is funny you only took one piece of black raspberry pie to work and would not share the pie with anyone.  Can you really eat that whole pie by yourself?  I mean let me re-phrase.  Do you really need to eat the whole pie yourself?  I don't care either way because it took us three years for our black raspberry bushes to get big enough to actually have enough for a pie.  I just think it is funny.
Dear PJ and Derby, You have done great this week with all of the fireworks.  I have not seen either of you freaking out, granted when we leave anywhere at night we have been leaving the TV on in hopes of drowning out the noise.  Either way it's working or you are not as scared anymore.  Maybe all the thunderstorms we have had recently have prepared you.
Dear Fireworks Displays, You never seem to disappoint.  We went to three firework displays so far and they were all spectacular.  I am not a die hard for fireworks, but I do like to sit and watch them.  S really enjoyed them this year.  Keep it up and we will see you next year.
Disclaimer: I have never claimed to be any great writer. So any mistakes that are made are my fault. Sometimes I mix up names B, S, and P, but I think you can figure out who I am talking about. If you find any grammatical errors just fix it in your mind so it sounds right.