October 25, 2013
Comments Off

on Foto Friday
Foto (Photo) Friday is my show and tell of pictures from the last week.
B and I totally goofed and forgot to bring S's life jacket.  Of course we didn't remember until we were almost there.  It was either go home and don't go or put S in my jacket and pray for the best.  You can see what we picked.  S was totally okay with wearing my jacket.

S and I had a great time hanging on for dear life in the windy river.  B had to be really careful or if the boat was turned just right S and I would get soaked by the waves.
S wanted me to take a picture of him wearing this bowl as a hat.  How funny does he look with this bowl as a hat?

These were all the peppers we picked on Monday before we had our first freeze.  Two bushels of green peppers, half peck of jalepenos and three gallons of Hungarian wax peppers.
This was the day we got all the packages in the mail.  S loved his new lunchbox that had pirate pigs on the front.

I was taking a picture of this box and S asked if he could be part of the box.  When I don't want to take a picture of him he is all about getting in the pictures.  When I want to get a picture of S he wants no part of it.
At zoo school, S was all about petting the rat after I explained to him that pet rats are really nice and they are just like F's hamster, Peach, but with a tail.  Once he understood that pet rats were nice he was all about it.  He wanted to hold it, but was only allowed to pet it's back.

When they told the kids to move there carpet mats closer to see the bat, S walked around all of the kids and sat on the other side so he could get as close to the bat as he could.  He did sit the closest to the cage and just stared at the bat.
S and F went to Trunk or Treat last night.  This was S's back-up costume, if it was cold he was going to wear his construction rain coat and not his construction shirt.  I think this is way cuter than the construction shirt.  F did a last minute costume at grandma's and went as a bride.  They both looked so cute.

This is the third year that we have taken S and F to trunk or treat at a local church we belong too.  This is always the start of our Halloween week of events.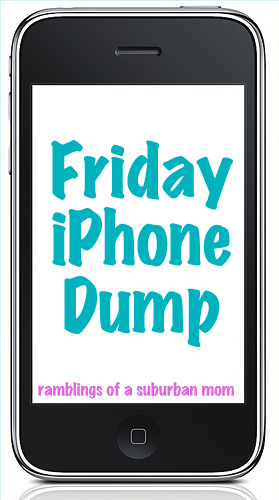 I am linking up with Jen @ Ramblings of a Suburban Mom.  She does iPhone Dump and I do Foto Friday.  So pretty close!
Disclaimer: I have never claimed to be any great writer. So any mistakes that are made are my fault. Sometimes I mix up names B, S, and P, but I think you can figure out who I am talking about. If you find any grammatical errors just fix it in your mind so it sounds right.