September 20, 2013
Comments Off

on Foto Friday
Foto (Photo) Friday is my show and tell of pictures from the last week.  A little shout out–Happy Birthday Jimmy Fallon!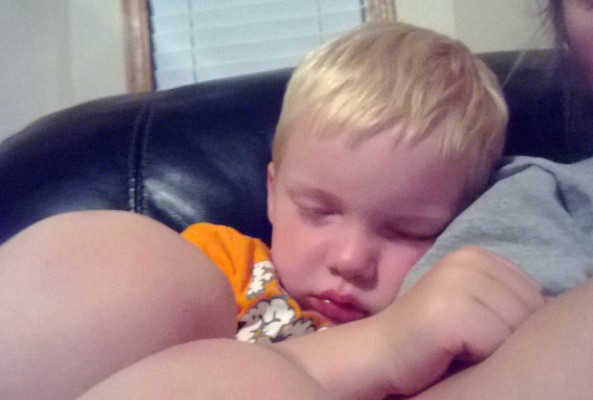 This is why I did not get Foto Friday done last night.  S crawled up on me and fell asleep at 8:30pm.  I gave up for the night and then this morning we left first thing in the morning and did not get home until after 2pm today.
S playing in his big sandbox.  He has been loving this and played in it everyday for a few hours a day.  He is covered in sand when he is done, but happy as can be.

When S saw me take the first photo he took off running at me to get me.  This has got to be one of the best action pictures I have taken in quite some time.  Does anyone else like the orange construction fencing for the sandbox?  No way can B miss it when he is mowing the lawn or PJ when he is chasing squirrels.
When S gets up in the morning and Baby A is there first thing he must tell Baby A good morning.  Forget about telling mommy good morning.  Baby A is looking at S like don't even think of touching me!

I was getting a bottle warmed up for Baby A.  I looked away for a minute and S had taken it out of the water and started trying to feed Baby A all on his own.  So cute, but when he wouldn't take the bottle for S, S wanted to try different food that he may like better.  Not yet!
S went outside early Thursday to play in the sand so Baby A could watch him.  That is what he said so he could play early in the day, "Baby A wants to go outside and watch me play in the sand.". Usually he has not been playing out in the sand until Baby A goes home or until B wakes up.  He thought Baby A would have fun watching him in the sandbox.

Baby A actually did like sitting up in the stroller and watching S in the sandbox.  For a whole 5 minutes he was entertained and then Baby A was bored watching S and started fussing.  S thought he could entertain him but not so much so we went for a walk.
Disclaimer: I have never claimed to be any great writer. So any mistakes that are made are my fault. Sometimes I mix up names B, S, and P, but I think you can figure out who I am talking about. If you find any grammatical errors just fix it in your mind so it sounds right.