December 30, 2017
Comments Off

on Foto Friday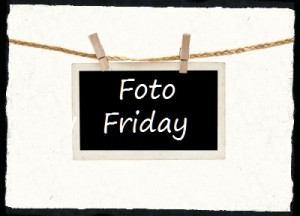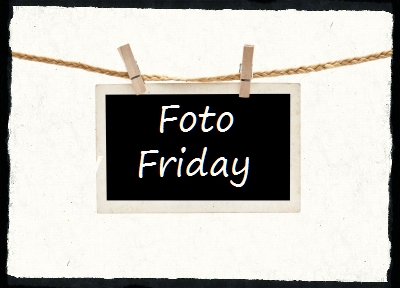 Foto (Photo) Friday is a show and tell of pics from the past week.  It has been over a week since I have done a post.  With Christmas it has been crazy.  At the same time when we are trying to get ready for Christmas P conveniently decides she no longer wants to go to sleep at night.  On the 23rd she started fighting us with going to sleep.  She was up until after midnight which made for a long day on Christmas Eve.  It hasn't been until last night that she finally went to sleep without fighting us.  Every night is when I work on my post for the next day but when I have to work for hours at getting her to go to sleep I just want to collapse when she does finally get to sleep or my nerves are so frayed that I just want to sit and watch a little TV to calm down before bed.  Here are some photos of hour holiday weekend.
P loved every minute of opening presents.  She is the best when it comes to opening presents.  Her enthusiasm is so much fun to watch.  S loves to get gifts.  Sometimes he would open a present and just stare at it trying to figure out exactly what it is before thanking the person who gave it to him.  Other times he would open something up and having the biggest smile on his face.
Christmas Eve
We started a tradition when S was one opening all the gifts from B and me on Christmas Eve morning.  We do this for a few reasons:
So the kids can really enjoy what we are giving them and not be burnt out how most kids can be Christmas morning after a long Christmas Eve.
With B's work schedule he could be scheduled to work on Christmas Eve or Day so this gives us fluctuation of when we open the gifts so he can be there to watch them.
It helps so if others are giving them gifts they can go with what we have already given them and not ruin the surprise for Christmas morning.
It gives the kids something new to play with while we are getting everything ready and cooking food to take places on Christmas Eve.
I really wanted most of the kids gifts to come from us so that they know we did this for them, and they don't compare how much they get from Santa because they both just get one thing and there stockings from Santa.  When the spirit of Santa no longer exist it will hopefully make the transition easier.
Christmas Eve Morning
We always take pictures the night before.  You can see that P was super excited and S was just tired.  It showed when he went right to sleep and she fought sleep and was up till after midnight.
The next morning they were both so excited to open presents from us.
For S's first Christmas we bought a ton of snowman boxes.  We decided this is how we would wrap the presents from us to the kids.  The only way to distinguish them is they each have a different color of ribbon.  In the same idea, B has Christmas tree boxes and I have pig Christmas boxes.  If something is too big to fit in a box (which doesn't happen often) then we wrap it in snowman paper.
S has been asking for more stuff to build.  He got a ton of Legos from us, some STEM building kits, and a circuit board maker which he has really shown interest in lately.
P mastered the scissors this year and was able to cut the ribbon all by herself.
P got her favorite, Anna and Elsa as kid dolls.  She loves them and took them right in her bedroom so they wouldn't get dog hair on them and so there was no chance the dog would eat them.  She also got Dory and Frozen toys from us.  A lot of it was little stuff because she really likes the small toys.
S made us an ornament at school.  It is so cute and this is the stuff I love to get and put on the tree every year.
Christmas Eve at Papa's
P got 2 My Little Pony characters that she really wanted.  (She knew about them because she picked them out when I went shopping with Papa for the kid's gifts.)  She has been counting down the days until she could go to Papa's and get her ponies.
S got a plush Minecraft character (zombie) and loved it.  He got a ton of Minecraft characters for his birthday and this completed what he was missing.  It is super soft and cuddly.  I think Papa thought about keeping it!
Christmas Eve on B's side
Yes, S has his eyes closed but this is the only picture I have of us.
The kids all did a gift exchange together.  They sat in a circle while a story was read and passed the presents left and right every time one of the words was said in the story.  P and her little cousin did an exchange between the two of them since they are so much younger than the rest.  They still got to play and whoever got there gifts just traded with them at the end.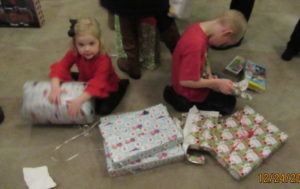 Santa stopped at the Knights Preserve (the family reserves a room for Christmas Eve) while everyone was at Christmas Mass and dropped off a few bags of gifts.  P loved what she got.  She got a Frozen tent and sleeping bag.  The cherry on top was the sets of Tsum Tsum characters she got.  She lost her mind and was literally screaming in excitement grabbing the sides of her head when she saw it.  It was the best response you could ask for and was the best present ever for me.  S got a set of SpongeBob Mega Blocks sets to make a ton of Bikini Bottom locations and characters.
Christmas Day
Christmas Morning
We told S he had to stay in his room until P woke up.  We let him have the tablet in his room so he could play on it while he patiently waited.  P slept till 9:30am (which I am forever grateful for).
This is what it looked like before the kids got to it.  Santa doesn't usually wrap presents if it can be opened and just have a bow on it.  If he does wrap it, he always uses Peanuts/Snoopy paper.  He is the only one who uses that paper!
P woke up still tired and took the picture but refused to stand near S.  She did not want him touching her no matter what.   Typical P!
S got a Hot Wheels Ballistik Racer Vehicle, which is a remote control car that can move and do all sorts of crazy tricks.  He also got a huge Minecraft Lego set.  In his stocking he got some Hot Wheel vehicles, Minecraft Lego characters and some other small things.
P got a baby set.  It included a playpen, highchair, and stroller.  There was also a Dory in the highchair.  Santa also brought her a new baby it was a Cabbage Patch doll named Piper!  In her stocking was some gold and silver Tsum Tsums, small Elena and Naomi dolls from Elena of Avalor, and other small things.  Dash really loves the playpen and is constantly playing or sleeping in it.  It is also a great hiding place for Dash when she is playing with Dinky.
Christmas Day with Grandma G and Grandpa Bob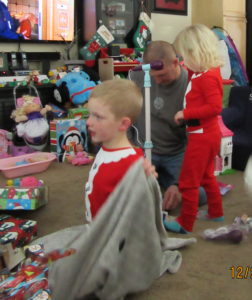 The kids got all kinds of stuff.  P loves her microphone and plays with it often.  S loves the Lego sets he got and put them in the order he plans to build them.  They also got a shark tail and mermaid tail from there cousin.  P has been asking for a mermaid tail blanket and S is using his shark tail blanket every morning.
Christmas Day Evening
We go to my aunt's every year for dinner.  The kids love to go and see cousins they don't see on a regular basis.
S was busy looking for the hidden pickle on the tree.  Every year my aunt hides a pickle and whoever finds it gets a little something special.
P was so surprised with how big the candy cane was she got.  She couldn't believe it was a real candy cane.
Christmas Day Night
We finish out every Christmas going to B's aunts and hanging out for a while.  I didn't take any pictures but the kids had fun playing with there cousins.  The adults usually end up hanging out or sleeping on the couches.  I ended up on a couch reading/falling asleep.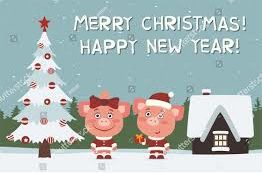 The kids had a great Christmas this year.  They got way to many presents, too little sleep, and had a ton of fun the entire time.
Disclaimer: I have never claimed to be any great writer. So any mistakes that are made are my fault. Sometimes I mix up names B, S, and P, but I think you can figure out who I am talking about. If you find any grammatical errors just fix it in your mind so it sounds right.