November 3, 2017
Comments Off

on Foto Friday
Foto (Photo) Friday is a show and tell of pictures from the past week.  This week is all about Halloween and what we have done in the past week to celebrate it.
Last Thursday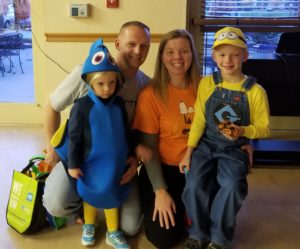 We went trick-or-treating at a local nursing home/rehabilitation center.  The kids had a good time getting the treats from the residents.  I love that my kids did not hesitate and happily interacted with everyone.  P was so excited when she got a bracelet from one of the residents.  The resident said they worked for quite a while and made over 150 bracelets to hand out.
Saturday
We went to Costco in the morning and were surprised they were hosting a trick-or-treat event.  Right afterward we went to a local funeral home for their event.  If you donate a canned good you get a free pumpkin.  The kids love walking around looking at all the decorations, decorating a cookie, getting balloon animals made, and the petting zoo.  P picked out a really small pumpkin and S tried to find the biggest pumpkin he could.
Sunday
I let P skip her nap so we could go to a Halloween parade in Rossford.  The Deca program at Rossford High School puts the whole parade together.  It is actually a great parade and pretty long.  The kids get tons of candy and they had so much fun collecting it.  It was pretty chilly.  I was bundled up under blankets but they didn't seem to mind.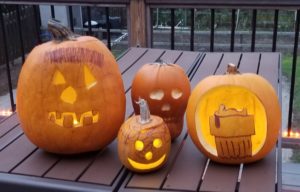 We carved pumpkins before bedtime.  The kids had so much fun.  P scooped out the pumpkin all by herself this year.  S got to use a knife and carve his own pumpkin this year.  B cleaned and carved his own pumpkin, and carved out what I drew on the skull shaped pumpkin.
Monday
I took P to trick-or-treat at the Maumee businesses.  It was just the two of us and she had a blast.  We went to the businesses.  She was so excited to get candy.  Of course, she gets the opportunity to pick from a selection of full size candy bars and she picks a Dum-Dum sucker.  The irony is not lost on me because I realize since I haven't really given her candy but she has had suckers she would pick what she really likes.
Tuesday
In the morning, I had to make sure to get S dressed so he was wearing part of his costume and the other part was packed in his backpack.
I got P to take a nap but it took almost 45 minutes for her to fall asleep so she didn't actually go to sleep until 1pm.  I had to wake her up at 2:15pm so we could make it to S's Halloween parade at school on time.  Thankfully she wakes up happy from naps even if it is early but it usually doesn't last long.  It was windy and cold outside so we both had to bundle up.  It was so much fun to watch all the kids walk around the circle outside and show off their costumes.  P loved seeing them all and telling me when she saw a princess or My Little Pony.  I was so happy to see that S decided to wear his winter coat outside.  Not all the kids did.
After S got off the bus I got everything ready to head to my sister's for trick-or-treating.  We made a quick stop at Grandma G's and Grandpa Bob's to say Happy Halloween.  When we got to my sister's we had a quick dinner.  P's dinner consisted of 3 donut holes, and some shredded cheese.  We headed out to trick-or-treat and P was so excited she was dancing around.  S was just as excited and was running all over the place.  When we all left to start P did not like that she was at the back of the pack and proceeded to run around my niece so she could be at the front of the pack.  No more toddler wanting to be with mom, she was all about being with the big kids.  We were out longer this year than we have been for any other years.  We actually made it for 40 minutes with P and almost an hour with S.  While P hung out inside with us, S was all about handing out candy to trick-or-treaters instead of just leaving a bowl on the porch.
Disclaimer: I have never claimed to be any great writer. So any mistakes that are made are my fault. Sometimes I mix up names B, S, and P, but I think you can figure out who I am talking about. If you find any grammatical errors just fix it in your mind so it sounds right.