March 12, 2017
Comments Off

on Foto Friday
Foto (Photo) Friday is a show and tell of pics from the past week.  Not a whole lot has happened this week.  P and I have been staying at home working on this potty training and the best part is it worked.  We left twice to go to P's playgroup and get my niece from school when she was sick.
We went to Monster Jam last Saturday in Detroit and the kids loved it.  P was constantly asking for more (She wanted to make sure there was going to be more cars and it wasn't over.).  S couldn't sit in his seat because he was so excited.  He stood most of the time watching all the monster trucks.
S taught P "Ring Around the Rosie" and they have been playing it every morning before S gets on the bus.
I walked away for a minute and when I came back this is what I found.  P had grabbed my Nook and managed to open the Kids App so she could play games.  When I asked her if I could have it back her response, "One minute."
S had to see what P was doing and watch her on the Nook.  Since he timed out on his, this is the closet he could get to another tablet.
We did it! I finally gave in and told P should could only use S's tablet when she was sitting on the potty to poop!  Yup, I am actually talking about my kid pooping.  It was a big deal around here this week.
Since she actually pooped in the potty her reward is a prize out of the prize box (she picked the figurines behind her on the couch from frozen), and 15 minutes on S's tablet.  It has been a week of doing the potty dance and celebrating poop!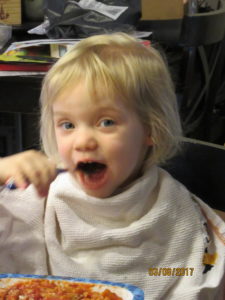 P refuses to wear bibs anymore but she will wear a kitchen towel wrapped around her neck.  It does just as good so I will take it.
Disclaimer: I have never claimed to be any great writer. So any mistakes that are made are my fault. Sometimes I mix up names B, S, and P, but I think you can figure out who I am talking about. If you find any grammatical errors just fix it in your mind so it sounds right.