January 2, 2017
Comments Off

on Foto Friday
Foto (Photo) Friday is a show and tell of pics from the past week.  Even though this is a couple of days late I am going to solely dedicate it to Christmas Eve and Christmas Day.
Christmas Eve
Christmas Eve started early for us around 8am when P finally woke up.  The kids always open all there presents up from us on the Eve morning for a few reasons:
We can switch it around to accommodate B's work schedule.
The kids open our gifts first before they are burnt out by Christmas morning.
It gives the kids something to do while we get all the food and ourselves ready for Christmas Eve.
The kids always some kind of coordinating pajamas or Christmas jammies on the 23rd.  This year they wore the elf jammies that Chippy left on S's birthday.
S is having just as much fun as P does with her new magnetic set.  He got an Xbox so there really wasn't much to take pictures of him with.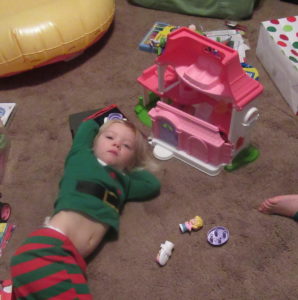 P loved the Little People house that we got her.  I am amazed at how much she plays pretend with this.
Ready to go to Papa's to start the Christmas Eve celebrations.  They looked so cute in there outfits.  I put gel in P's hair to keep the curl for the day.
When P opened up her Baby Elsa doll she was beyond ecstatic.  I got her expression in a pic but to see it in person was hilarious.  She definitely got what she wanted and had to have it right then.  Baby Elsa hung out with us the rest of the day.
Santa delivered some gifts early while everyone was at church on the Bihn side Christmas Eve.  Chippy had been bringing Minecraft characters for S everyday so it seemed only fitting that Santa would bring a carrying case for them to be stored in.  P got a Tsum Tsum advent calendar at the beginning of the month from Chippy.  Santa brought a Tsum Tsum carrying/organizing case for all of them along with a few characters.  I love how Santa and Chippy coordinated there gifts this year.  It really shows how Chippy does work up at the North Pole with Santa.
Christmas Day
We left milk and cookies for Santa along with carrots and celery for the deer.  S decided to put the carrots inside the celery like 'Ants on a Log.'
This is what it looked like Christmas morning before the kids dug in.  The dolls in the chair were not part of the gifts.  They are the currently dolls P got on Christmas Eve.
S got a new bike and a remote control car.  In his stocking he had some new Hot Wheel cars and Minecraft characters.
P got a new blue Dory bike and a Lego set that was Frozen.  She loved it and climbed right on the bike trying to ride it around the island.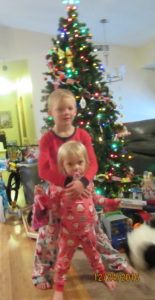 The kids wore there coordinating pajamas that Aunt C got them.
Disclaimer: I have never claimed to be any great writer. So any mistakes that are made are my fault. Sometimes I mix up names B, S, and P, but I think you can figure out who I am talking about. If you find any grammatical errors just fix it in your mind so it sounds right.