November 7, 2016
Comments Off

on Foto Friday
Foto (Photo) Friday is a show and tell of pics from the past week.  I got a cold that came out of nowhere on Friday and it has been kicking my butt.  I have been going to bed early every night, sleeping during the day when I can, and of course shopping at Target for Halloween clearance.  As long as I am not in the hospital I will not miss a clearance event!
We went out on the boat for the last time after P got up from her nap on Saturday.  It was a little rough so we didn't stay out for too long.
We visited a pumpkin farm and the kids loved the corn maze and hayride.
We made buckeye eyeballs for Halloween.  S wanted me to make sure that I waited for him to decorate the eyes with the eyeball.
When P saw that S was helping me she climbed right up in her seat and was ready to help.  She was actually good at putting the eyeballs on the buckeye's without messing up the red lines.
S loved doing the Halloween parade at school.  He was sure to tell me that he got the shirt on by himself without any help.
Trick or Treating Monday night.  Everyone had a blast.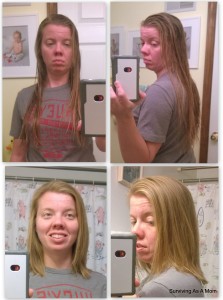 This is my before and after picture of me.  I got my haircut this past week.  I donated 12 inches and when she was done cutting and styling a total of 14 inches was gone.  I forget that I don't have all that hair back there when I go to get it out of my face.  I try to brush it behind my shoulder and there is nothing to hold it there so I have to start tucking it behind my ears again.
P was getting ready for her first football game.  This was also her first time wearing overalls.  She was very intrigued with them and how they went over her shoulders.  The overalls were fleece lined to help keep her extra warm.
We went to see my nephew play in the band, so we were waiting on the home side for the halftime show.  P was all about poising for this picture.  By this point she was tired and to keep her happy I gave her the binky.  Yes she is wearing her dog leash again.  She loves to put it on and it makes it so much easier to keep her close to me when she refuses to hold my hand.
Disclaimer: I have never claimed to be any great writer. So any mistakes that are made are my fault. Sometimes I mix up names B, S, and P, but I think you can figure out who I am talking about. If you find any grammatical errors just fix it in your mind so it sounds right.