August 21, 2016
Comments Off

on Foto Friday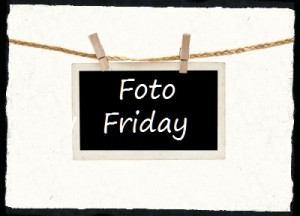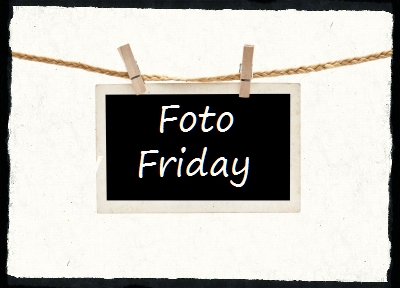 Foto (Photo) Friday is a show and tell of pics from the past week.  Well school started for S this week.  It has been an adjustment for all of us.  S always gets up early, but P and I are a different story.  I have been getting up at 7:45am and P has been up before 8am everyday.  She was sleeping till sometime between 8 and 9, so this is early for her.  A few days she was up at 6:30am. Ugh!  S has done great at school this week.  He comes home happy everyday and has tons of stories to tell me.  P has been adjusting pretty well to being home without S.  She is used to once in a while, but not all day.
Monday
This week we got the first bring in house kill from dash.  S found Dash playing with it and tried to get a picture.  He started screaming in this high pitched voice when Dash was batting the Cicada around.  It was dead.  When B went to take care of it, it had disappeared.  He found it outside a few days ago and Dash was still playing with it.
P loves the pop-up tent.  She loves to lie in there and watch TV.  She has even made me climb down there and lie on the floor with her.
Tuesday
I got the First Day of School pic.  For some reason P did not want to participate so we got her in them against her will.  I will post a close-up of S's board on Manic Monday.  P picked out her leopard dress to wear.
Watching S get on the bus.  I was nervous they forgot him because they added our cul-de-sac on to the route after it was established.  They should pick up around 8:30am so we were ready at 8:15am just in case they were early.  8:30 came and went, 8:35 came and went.  I text my neighbor and told her if the bus comes to her house before I text her let me know so I can take him to school.  8:40 comes and goes.  Finally at 8:45am the bus comes down the street.  Technically they are supposed to be getting off the bus at 8:45.
P was not sure about S getting on the bus and not going with him.  After she saw him sit down and wave at her she finally waved goodbye giving her blessing.
Wednesday
I helped B in the garden after S got on the bus.  Because I was in there with B, P wanted to help too.  She got her boots and gloves on.  The minute she went into the garden she started picking tomatoes.  Amazingly she picked the red ones without having to be told which to pick and which to not pick.
B was cleaning up the garden getting rid of the cucumber plants that were done.  Apparently, when B was done making pickles, the plant had other ideas.  These are cucumber pickles that kept on growing after B didn't pick them anymore.  There were about 6 this size!
Thursday
P was eating a snack before we went out on the boat.  I told her she had to wear pigtails on the boat so her hair did not get tangled.  She listened to me and left them in the entire time.  I love how cute they look on her.
I know I have been saying it a ton the past few days, but P loved riding the boat.  We took it out for the first time this summer and kept our fingers crossed it would start with no issues.  It started right up!  We took it out and then went back to the dock to get Papa so he could go with us.  Everyone had an awesome time riding around.  S did most of the driving, but P made sure she got her turn.
So the water wasn't nearly as bad as it has been in years past.  It did have a little green color to it but you can see in the wake that the water was white/clear.  A few years ago the wake was pea green and nasty.  So better than it was before, but not as good as it used to be.
Had to get a picture of me with the kiddos to prove I was on the boat, too!  P kept her sunglasses on the entire time.  We have the hardest time getting her to wear sunglasses.  That was not the case today and it made the ride so much easier.
Friday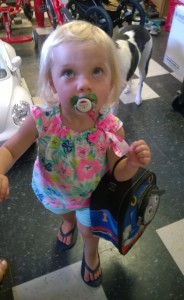 P and I went shopping in the morning after our walk.  She accessorized herself with a  Santa binky, S's flip-flops, and a Thomas lunchbag.  She was game to go so I was game to let her take whatever she wanted.  She found her baby in the car and the baby went to every store with us (so did P's stroller).
Disclaimer: I have never claimed to be any great writer. So any mistakes that are made are my fault. Sometimes I mix up names B, S, and P, but I think you can figure out who I am talking about. If you find any grammatical errors just fix it in your mind so it sounds right.