June 4, 2016
Comments Off

on Foto Friday
Foto (Photo) Friday is a show and tell of pictures from the past week.  I wanted to show why I have been so tired this past week and why I have been neglecting the blog.  We have spent the entire week over at B's parents because they started their addition.  We would go over every morning and watch until it was P's naptime.  P and I came home, while S stayed the entire afternoon.  Some evenings we went back and others they went back while I ran other errands.
Monday was a holiday so there was no work being done.
Tuesday
This was the beginning of the addition when they started digging it.
P got her first ride on a dolly and S rode it like a pro.  P liked it so much she kept asking Grandma G to do it more.
After B got home from work and P's nap we went back over to his parents.  S had been playing in the hole the entire time we were gone.  P wanted to go down and check it out when she saw B and S in it.
P loves the four wheeler and when we would take her helmet off she would put it back on and go over to the four wheeler.  S also has to wear his helmet, but he got picked up in the back of the yard and B was giving him a ride back up front to get his helmet.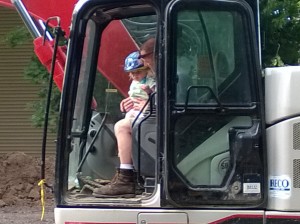 P got to climb in and check out the excavator.  No worries they didn't turn it on.  S didn't want to get in.
Wednesday
Yes P is wearing S's old clothes.  I love them, but it also helps to have longer shorts.  P took a break to eat her banana before she went back to checking everything out and watching.
P had to have Grandpa B pick her up so she could see exactly what the truck was doing when it dumped dirt.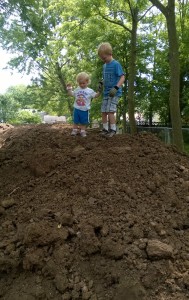 When I brought P back after her nap she had to run right up the hill (or at least try to) to be with her brother.  The "King" and "Queen" of the mountain.
I left to go to a painting class and they hung out with there dad while he spread dirt out.
Thursday
Look at those red lips.  She got red lips after eating a strawberry popsicle.  Can you believe how clean her shirt was when she was done?  Those lips stayed red for a few hours.
This is what the hole looked like when it was finished and they started making the forms to pour the footer.
B brought them back while I went to an eye doctor appointment in the evening.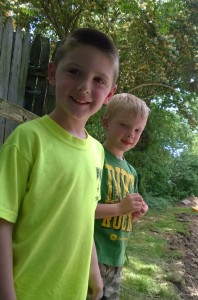 S got to hang out with his cousin L while they poured the cement.  They both loved it and did very little talking while they were watching.
Friday
S was so excited to get down in the hole and help B and his Uncle.  I had my nephews come over and help out all day.  They were a huge help and I don't think they would have gotten the walls finished on Friday without them.  S got to help his Uncle and hand him all the screws to hold the braces for the walls.
P wanted to help, but was too little so she walked around with Grandma G checking everything out all day.
The twins each wanted a turn in the bobcat driving it.  Once they each had a turn P and S both wanted to try.  S has been in them before, but this was P's first time.  She really liked it and could not stop smiling.
The kids were so tuckered out.  It was 4pm when we got home from there.  I didn't give P a nap and put her down for the night at 7:30pm.  S was not far behind and was in bed by 7:45pm.  I was out the door and went shopping by myself.
Disclaimer: I have never claimed to be any great writer. So any mistakes that are made are my fault. Sometimes I mix up names B, S, and P, but I think you can figure out who I am talking about. If you find any grammatical errors just fix it in your mind so it sounds right.