February 27, 2016
Comments Off

on Foto Friday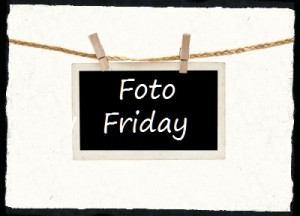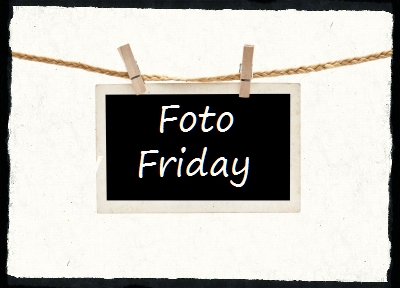 Foto (Photo) Friday is a show and tell of pics from the past week.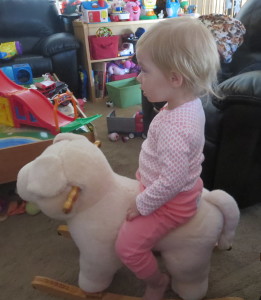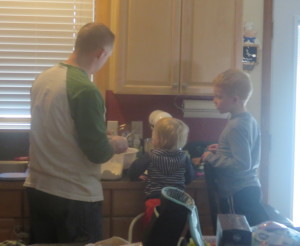 P really does love riding on her rocking pig.  She will even sit on it and watch TV.   It's really cute that when she rocks she tucks her feet under the pig so she doesn't fall off.
P is now big enough to stand on the stool so she can help make food.  S is very jealous because he still wants to stand on the stool but is big enough that he doesn't need it.  What does he do?  Grabs a chair to kneel on so he can still be taller than P.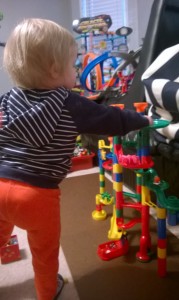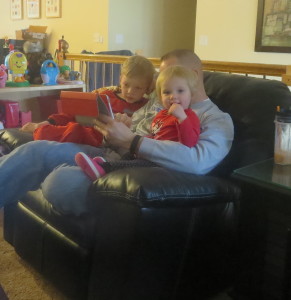 P loves to play in the playroom.  She is getting good at not sticking things in her mouth so she can go down with S when he is playing.  She loves the marble track and will start the marbles at the top, collects them in a box, and start all over again.
B and S were busy on the tablet.  P wanted to be a part of it to so she climbed up.  She didn't find it very fascinating when she wasn't allowed to touch the screen.  I love that she is wearing her cute little Minnie shoes.  We call them slippers, but really they are shows for babies she just happens to have tiny feet.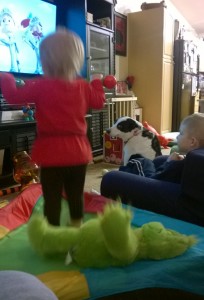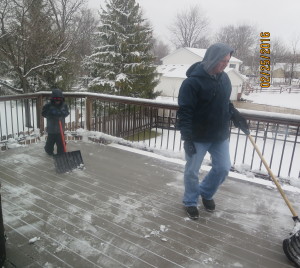 P was jumping like crazy on her trampoline with her friend "The Grinch."  She loves to carry him around and growl at all of us with him.  While she is jumping, S is sitting in his chair next to her and PJ is keeping a wary eye on both of them.
Thursday we got snow.  The roads were not bad at all (I thought) so they cancelled school.  While P was taking her nap S went outside to shovel with B.  S had to shovel off his playset on his own but they worked on the decks together.
Disclaimer: I have never claimed to be any great writer. So any mistakes that are made are my fault. Sometimes I mix up names B, S, and P, but I think you can figure out who I am talking about. If you find any grammatical errors just fix it in your mind so it sounds right.