January 16, 2016
Comments Off

on Foto Friday
Foto (Photo) Friday is my show and tell of pics from the past week.  I thought this week was going to be quiet with no plans.  I guess someone else had something in mind for us because I got the stomach flu Wednesday, B got sick Wednesday night into Thursday, and S got sick all day on Saturday.  I am finally getting this done Saturday night after I got S to bed for the night in my bed, as long as he doesn't wake up again getting sick.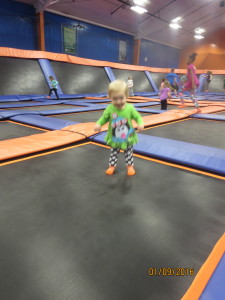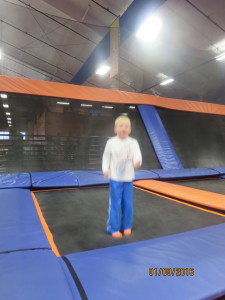 P loved jumping at Sky Zone.  She was a sweaty happy mess when she was done.
S had a blast jumping.  He was able to run around and do everything, but they don't have any security precautions at all!  I just had to put my faith that nothing would happen to him because I couldn't keep my eyes on him and watch P at the same time.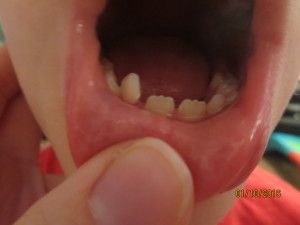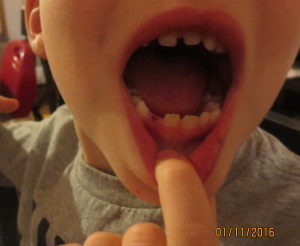 S finally lost his third tooth!  It was hanging there just barely, and I finally convinced him to let me just pull it out.  I really didn't want him to fall asleep with it hanging there.  He didn't cry when I pulled it out, which I was happy to see.  He really wants his top tooth to come out so he and Baby A can be missing the same tooth at the same time.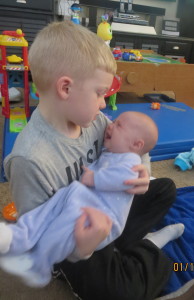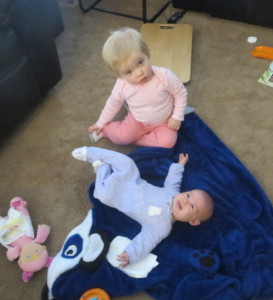 Baby A and Baby L came over to visit this week.  S always wants to hold her.  The difference between when he was 4 1/2 when P was born, and now at 6 is amazing.  He totally knows how to hold a baby.  Baby L cried the entire time he held her and S just shushed her and did a little bounce trying to make her happy.  He is going to be a good babysitter when he gets bigger.
To P, Baby L is her baby.  She hates that our neighbor (Baby L's mom) has a new baby and she is not the center of her attention.  She wants Baby L to play with her now and does not get that she can't.  We have to keep our eyes on her because the two times we haven't she was laying on Baby L trying to pick her up (P didn't get the concept of if you lay on top of something you can't pick it up.), and this day when she started tapping Baby L on the head to get her attention.  Thank goodness not hard enough to hurt her, but still no tapping on the baby's head!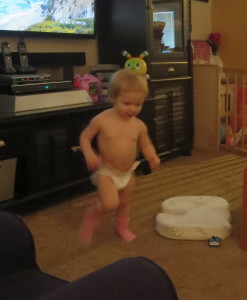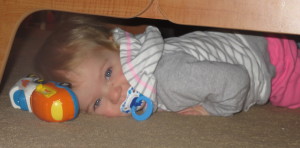 S got sick on Saturday so we kept the kids separated.  P ran around like a crazy baby in her diaper and socks.  Had to have her socks on!
P got stuck under the train table but didn't want to let me know she was.  She struggled for about 10 minutes before she finally wiggled her way out.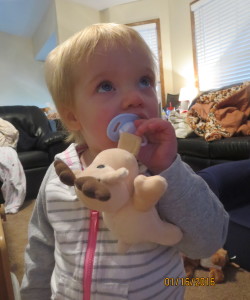 Trying out a new pacifier cuddly pal.  She loved the reindeer and it even had a red nose!  She loves her caterpillar, but I wanted to see if she was particular to the caterpillar or just a small stuffed animal with a binky on it.  The jury is still out.
You can see sheets covering the carpet just in case P got sick (she hasn't so far).  She dumped out her storage bin so she could sit in it.  Initially she was in it facing the other way but when she saw me trying to get pictures she climbed completely out, and climbed back in facing me.  She sat in it and watched Toy Story.  She loves any of the Toy Story movies.  They are definitely are go to movies for her.
Disclaimer: I have never claimed to be any great writer. So any mistakes that are made are my fault. Sometimes I mix up names B, S, and P, but I think you can figure out who I am talking about. If you find any grammatical errors just fix it in your mind so it sounds right.