November 14, 2015
Comments Off

on Foto Friday
Foto (Photo) Friday is a show and tell of pics from the past week.
I turned the camera around and she smiled for it no problem.  It's hard for me to get good shots of the two of us.
We got out S's old trampoline and P loves it!  She is a jumping fool.  You're supposed to be three but I guess it works for a one year old too.  We got out another trampoline for S so they both have their own and he already got his taken away until after Christmas!  Boys will be boys!
P is doing so good eating with silverware.  She now has to have all of her food on plates or in bowls for her to eat.  Miss Prim & Proper.
While P was eating, I couldn't figure out what S was doing.  I found him on the stairs.  Doesn't that look like a guilty face to you?  He was zooming cars down the stairs and got caught.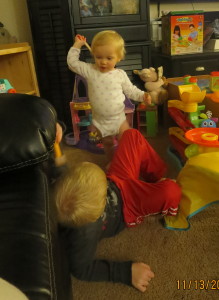 I told S that P was going to get big enough and not like him picking on her.  I just didn't think it was going to be so soon.  She is all about throwing things at people.  Trust me S and I have gotten the brunt of it.  We have had remotes, kid hammers, wooden utensils, sippy cups, cars, balls, shoes, and more thrown at us.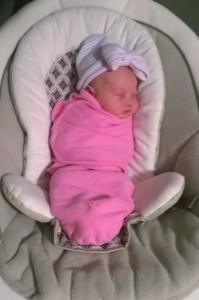 My neighbor brought her beautiful baby girl, Lucy, home.  She was such a peanut to hold.  I can't believe P was ever that size.  Check out the cute hat she got from the hospital.  It has the built-in bow on it.  P never got that and we went to the same hospital.
P was so jealous.  I wasn't holding the baby for more than a few minutes before she brought my shoes over to me and threw them at me.  She was ready for me to put the baby down and go home.  I gave the baby back to her daddy.  I was sitting on the floor and he put the baby in her swing that just happen to be next to me.  Before I knew it I had P sitting on my lap refusing to move.  She was marking her territory!
Yes I made the banner for Lucy.  I wanted to hang it up outside but we had 40 mph winds!
Disclaimer: I have never claimed to be any great writer. So any mistakes that are made are my fault. Sometimes I mix up names B, S, and P, but I think you can figure out who I am talking about. If you find any grammatical errors just fix it in your mind so it sounds right.