November 30, 2015
Comments Off

on Feel Like Exercising? Ya, Me Neither. The 5 things I want to try next when I do decide to exercise.
Disclaimer:  I received this product for free or highly discounted in exchange for an honest review.  All thoughts and opinions expressed are mine.
I am not an exerciser which if you have been following me you know I have talked about a ton.  I like the idea of exercising but don't actually want to do it.  For a while when S was a baby I would put him down for his nap and walk on the treadmill.  Great I am trying to exercise.  Except while I was walking I was drinking my one can of Coke a day.  When the Coke was gone I was done walking.  Oh and I watched TV the entire time.  Now I would savor my can of Coke so it would take me 20-30 minutes to drink the whole thing.  The only problem was I took in more calories than I burned.  Instead I just gave up the Coke!  Saved myself from getting the additional 120 calories a day and didn't have to exercise to do it.
I have decided to highlight a few exercise tools that I have gotten recently.  While I really want to use them all, I have not used any of them.
Resistance Loop Bands
I got five EverTrim Fitness bands each a 12 in. loop.  Each band is a different resistance so you can start easy and work your way up.  The bands can be used in numerous workouts including CrossFit, Insanity, Yoga, Pilates, and P90x.  The bands are also great for increasing flexibility, preventing injuries, recovering from MCL and ACL injuries, and improving mobility.  The EverTrim Fitness bands are made of latex and can be purchased on Amazon.com for $14.97.  #TopRatedPremiumResistanceLoopBandsforExercise
Jump Rope
I jumped rope when I was younger, but know it is one of the best workouts.  The Amsana Cable Speed Jump Rope can be used for exercise, boxing, MMA, and CrossFit Training.  The rope is a cable that is 10 ft. long and adjustable to accommodate everyone.  It has a double bearing mechanism that will allow for a sturdier spin.  The Amsana Cable Speed Jump Rope comes in five different colors: Black, Pink, Red, Blue, and Yellow.  The speed jump rope can be purchased on Amazon.com for $8.99.  #AmsanaSpeedjumprope
Yoga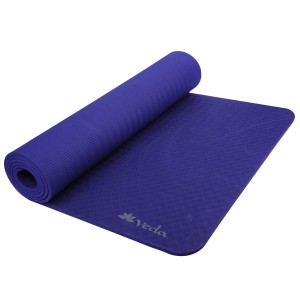 I have always wanted to try Yoga, but never really got into it.  I always heard to do Yoga properly you have to have a non-slip mat for your feet to grip onto.   The Veda Yoga mat is lightweight, durable, and extra-thick.  The mat is textured and non-slip which gives great grip and traction.  The yoga mat dimensions are 72 in x 24 in and ¼ in.  The Veda Yoga Mat comes in purple and can be purchased on Amazon.com for $25.95.  #yogamatreview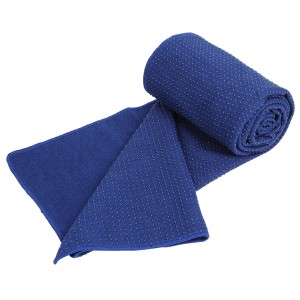 I got a Veda Non-Slip Yoga Towel (mat size).  The towel has silicone dots grip to the mat or carpet to prevent movement during yoga.  So I could use this on my carpet or on top of a yoga mat.  The material is microfiber and is quick to dry and super absorbent.  The towel is machine washable and dryer safe.  The Veda Non-Slip Yoga Towel is 24 in x 72 in, comes in two colors purple or blue, and can be purchased on Amazon.com for $17.50. #yogatowelmatreview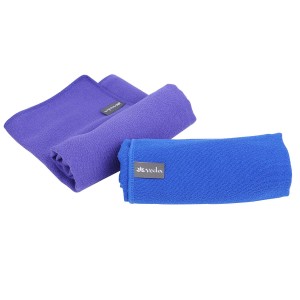 I did a review on the Veda Yoga Hand Towels but had to include them in this.  The towels are super absorbent microfiber.  They measure at 24 in x 24 in.  The towels are lightweight and quick drying.  There are two in the Veda Yoga Hand Towel Set which comes in purple and the other blue and can be purchased on Amazon.com for $12.92.  #yogahandtowelsreview
This seems to be an entire set of yoga materials.  I never knew there was a towel for the mat or specific hand towels to wipe the sweat away.  The yoga mat and accessories can all be for any yoga class: bikram, hot yoga, inyasa, ashtanga, anusara, and more.  I don't know that you need all of it to do yoga.  I think a mat or the towel would be sufficient for a beginner.
Exercise Ball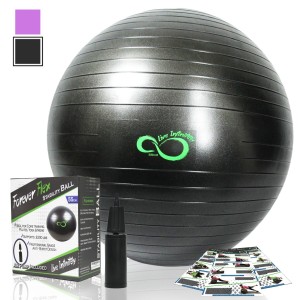 The exercise ball can be used to improve core and overall strength.  It is perfect for Pilates, Yoga, CrossFit, or other low impact exercises.  The Live Infinitely Exercise Ball comes in two colors grey or purple and in four sizes 55cm, 65 cm, 75 cm, and 85 cm.  A hand pump is included along with an extra air plug and valve remover tool.  There is an also online guide for exercising or training workouts with the exercise ball.  The Live Infinitely Exercise Ball can be purchased on Amazon.com for $21.90-$31.90 depending on size and color ordered.  #liveinfinitely
Arm Warmers/No Slip Compression Sleeves
I injured my elbow areas when I fell out of our pool this summer and my right elbow still hurts.  The 14 Peakas Pair of Compression Elbow Sleeves can be used as arm warmers for running and cycling or no slip compression sleeves for copper infused to reduce fatigue.  These sleeves have so many uses and can be worn during exercise to improve circulation on working muscles, prevent strain and fatigue of muscles by keeping them warm, and wicks sweat away to prevent chafing and rashes.  The sleeve is also infused with Copper to help aid recovery and reduce stiffness and soreness.  I have been wearing one on my right arm at night when I sleep and it has dramatically improved the pain in my elbow to the point where it is almost non-existent and I rarely have to wear the sleeve anymore.  The sleeve comes in four different sizes small-x-large and you can purchase the 14 Peakas Copper Elbow Compression sleeve on Amazon.com for $9.99-$17.99.  #copperelbowsleeve
I don't know that I will faithfully use any of these exercise tools, but I am willing to give them all a try…At some point.  Right now I am just going to look at them and wish I would magically exercise.
Disclaimer: I have never claimed to be any great writer. So any mistakes that are made are my fault. Sometimes I mix up names B, S, and P, but I think you can figure out who I am talking about. If you find any grammatical errors just fix it in your mind so it sounds right.