December 24, 2015
Comments Off

on Fam Fave Digital Thermometer Review
Disclaimer:  I received this product for free or highly discounted in exchange for an honest review.  All thoughts and opinions expressed are mine.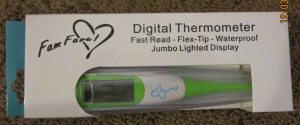 I have tried quite a few thermometers on my kids looking for the easiest way to get a temperature as quick as possible.  While I can get a quick temperature with some it is not always the most accurate.  I am one of those moms who does not take the first reading on a thermometer and will take their temperature sometimes two or three more times before I will believe it.
I have tried the ear thermometer to get an accurate reading and unless you have it pointed at exactly the right angle needed the reading will be different each time.  I usually take it 3 or 4 times and take the highest temp as what it must be.  It could read to low but never too high.  Since it was so hard to get an accurate reading I decided to try the forehead thermometer.  This seemed easy enough that you start in the middle of the forehead and move to the temple and back.  It was so hard to get an accurate temperature because the child has to sit completely still so the thermometer does not come off the forehead.
The Fam Fave Digital Thermometer is known for its fast results.  It takes 10 sec for rectal, 20 sec for oral and 25 sec for under-arm.  With an easy to read display that lights up in the dark it makes it much easier to take the temperature in the middle of the night of my child who is not feeling well.  The thermometer is waterproof and can be used in the bathtub.  I am not sure how accurate it would be.  I would think it would take the temperature of the water not the child.  The thermometer comes in a plastic case for easy carrying in a purse or in my case a diaper bag.
The Fam Fave Digital Thermometer is $16.97 on Amazon.com.  Click here to order the Fam Fave Digital Thermometer. #BestDigitalThermometer
I was chosen to review the Fam Fave Digital Thermometer through Tomoson.com.  Basically how it works is you select items you would like to review and if they chose you, the product is purchased through Amazon.com.  If you have a Prime Account with Amazon shipping is free and a coupon code is provided from the company making the product free or highly discounted.  In exchange they are looking for an honest review on their product.
Disclaimer: I have never claimed to be any great writer. So any mistakes that are made are my fault. Sometimes I mix up names B, S, and P, but I think you can figure out who I am talking about. If you find any grammatical errors just fix it in your mind so it sounds right.