March 10, 2016
Comments Off

on Erock Pair of Dusting Mop/Floor Cleaning Slippers Review
Disclaimer:  I received this product for free or highly discounted in exchange for an honest review.  All thoughts and opinions expressed are mine.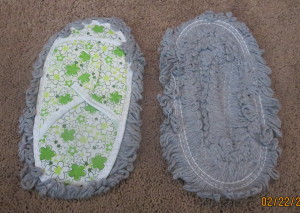 I have never been one to be shy about how I loathe cleaning.  If I can find an easy way to clean the house I am willing to try it.  The easiest way would be to hire a cleaning lady, but let's be honest that's not realistic.  These slippers sounded like a great idea  for getting the floor polished.  I know it won't pick up the crumbs, and if I will be lucky if I get some of the dog hair.  My thoughts for these slippers was to help polish the floor, get the scuff marks off from S pushing his toys around on the floor, and make the floors shiny again.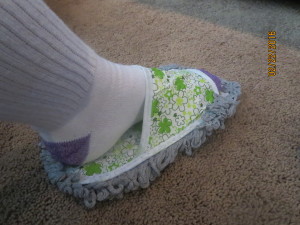 When I tried the slippers on I was happy to see that they fit.  They were not the most comfortable, but not the most uncomfortable either.  To get these slippers to do their job I did a lot of sliding around on the wood floors.  While it was no surprise that they did not pick up crumbs they did get a surprising amount of dog hair.  The scuff marks took a little rubbing but most of them came off the floor.  I don't notice a difference in the shininess of the floor.  I tossed these in the washer and was happy they came out clean.  I hung them to dry.  I would show you pictures but I am not going to admit how bad my floors actually were.  P loves to wear my shoes so I left these out so she can wear them around and help with the cleaning.
The Erock Pair of Dusting Mop/Floor Cleaning Slippers is only $5.99 on Amazon.com.  Click here to order your Erock Pair of Dusting Mop/Floor Cleaning Slippers. #Erock®cleaningslippergreenorblue(randomdelivery)
I was chosen to review the Erock Pair of Dusting Mop/Floor Cleaning Slippers through Tomoson.com.  Basically how it works is you select items you would like to review and if they chose you, the product is purchased through Amazon.com.  If you have a Prime Account with Amazon shipping is free and a coupon code is provided from the company making the product free or highly discounted.  In exchange they are looking for an honest review on their product.
Disclaimer: I have never claimed to be any great writer. So any mistakes that are made are my fault. Sometimes I mix up names B, S, and P, but I think you can figure out who I am talking about. If you find any grammatical errors just fix it in your mind so it sounds right.