September 4, 2016
Comments Off

on Djudas Foot Exfoliating Peel Mask Review
Disclaimer:  I received this product for free or highly discounted in exchange for an honest review.  All thoughts and opinions expressed are mine.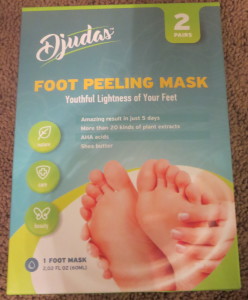 I have tried a foot peel in the past and wanted to do another one soon.  I went ahead and purchased another foot peeling mask to do on my feet.  I was going to do it this past week because I thought it was actually going to start cooling down and wearing socks.  The joke was on me and this week they say it is going to be in the 90's.  I decided to hold off on doing the foot peel until it gets cooler out.  The foot peels really work and your feet do feel super soft.  The problem is there are no callouses on your feet anymore and for me it hurt to walk in flip-flops.
The Djudas Foot Exfoliating Peel Mask is easy to use:
Soak your feet in warm water for 10-20 minutes
Wipe your feet thoroughly with a towel.
Cut the pack open with the socks.
Put the Djudas socks on your feet and use the stickers included to seal the socks preventing the liquid from leaking.
For best results wear a pair of snug fitting socks over the Djuadas socks.
Remove the Djudas socks for 90-120 minutes.
Rinse your feet with warm water.
That's it.  That is all there is to do.  Now it is time to sit back and wait for the peeling to start.  It usually takes about 3-5 days (closer to 5 days) for your feet to start to peel.  It is actually a really gross process.  I would soak my feet for about 10-15 minutes a day for a better peel removal.  I used a loofah in the shower to help get rid of the peeling skin, and always wore socks to catch the extra peeling skin.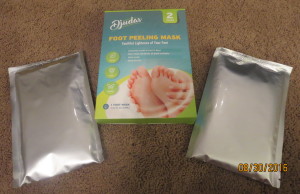 I told you it was gross, but the results are amazing.  I had the softest feet.  No matter what I have done in the past I have never been able to get results like this.  The last time I did a foot peel was about 6 months and I think I am ready for another one.
The Djudas Foot Exfoliating Peel Mask is $16.99 on Amazon.com.  Click here to order the Djudas Foot Exfoliating Peel Mask.  #footmask
I was chosen to review the Djudas Foot Exfoliating Peel Mask through Tomoson.com.  Basically how it works is you select items you would like to review and if they chose you, the product is purchased through Amazon.com.  If you have a Prime Account with Amazon shipping is free and a coupon code is provided from the company making the product free or highly discounted.  In exchange they are looking for an honest review on their product.
Disclaimer: I have never claimed to be any great writer. So any mistakes that are made are my fault. Sometimes I mix up names B, S, and P, but I think you can figure out who I am talking about. If you find any grammatical errors just fix it in your mind so it sounds right.