October 15, 2015
Comments Off

on Diddiboo Unisex Pacifier Clips Sets Review
Disclaimer: I received this product for free or highly discounted in exchange for an honest review. All thoughts and opinions expressed are mine.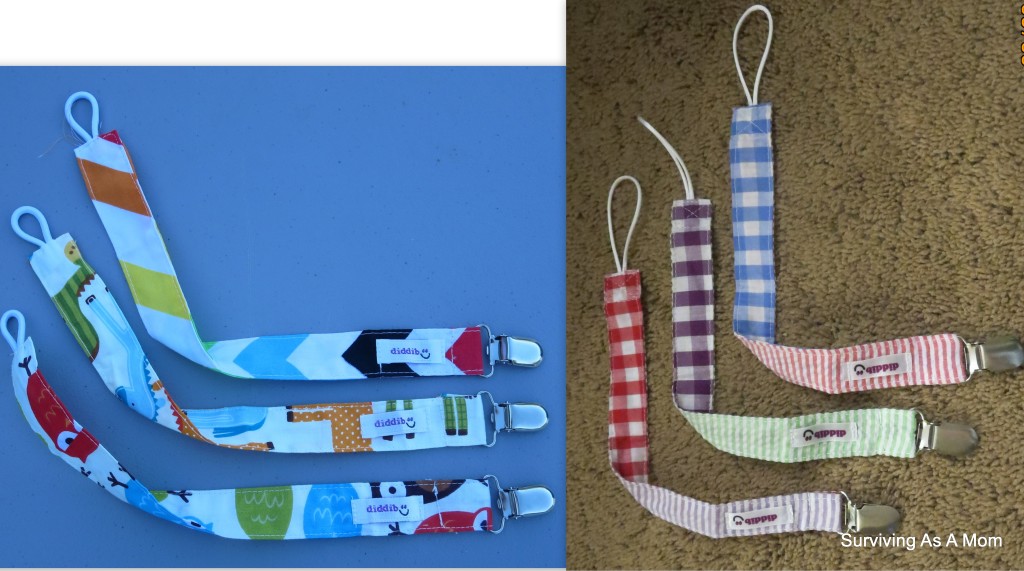 I love pacifier clips and was excited to get them. I really need more clips for P. She is always throwing her pacifiers and this makes it so much easier to keep track of. I have never been a fan of the metal clips for baby binkies. I see the metal as being unsafe for babies. I think they would be scratchy and not good for babies to chew on them.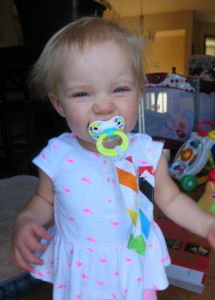 I received two sets of Diddiboo pacifier clips to review. Both packs were labeled unisex so there is no real way to distinguish which one you are ordering unless you click on the correct link. Both sets of clips had the metal clip attachments. These clips were a good high quality metal and shined. Unlike previous brands I tried I thought the clips were nice. I am still hesitant about putting them on P's clothes. I attached one to her and after only 5 minutes it left little teeth marks in her shirt. Now the marks disappeared after a while, but I wonder if they would if I had left the clip on longer. Since it is a metal clip I would not use these on a small baby because I would be afraid the metal could scrape there sensitive skin or the baby would chew on the metal.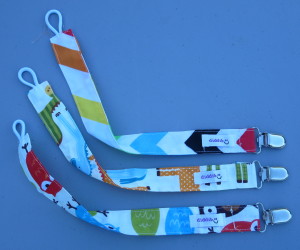 The first set of Unisex Pacifier Clips I received was super cute. One of them was a giraffe pattern, another was owls, and the third was a bright chevron. I could see giving the owl clip to my sister, and giving the other two away in a diaper cake. What really sold me on the clips were the loops to connect the pacifier, teether, blanky, or toy. It was an elastic loop. That makes it so much easier to hook something that is a little bigger because it would easily stretch over the object.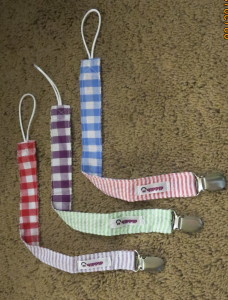 The second set of Unisex Pacifier Clips I received was much more neutral and almost had a countryish vibe toward them. One side was gingham blue, purple, or red. The other side was striped seersucker of red, green, or purple. It was blue gingham/red stripe seersucker, purple gingham/green stripe seersucker, and red gingham/purple striped seersucker. The loops on these pacifier clips did not impress me as much. It was a solid white loop that had no elasticity in it. The pacifier, teether, blanky, or toy would have to be small enough to loop around and be able to bring the clip itself through the loop to connect the object.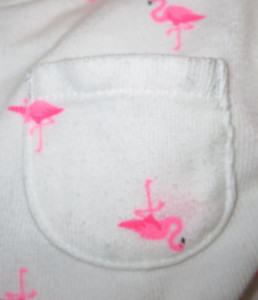 Overall I like ideas of these pacifier clips, but they are still not exactly what I am looking for. The metal was much nicer than others I have reviewed but it still left marks on the shirt. I like the elastic loop because it would make it easier connect an object to it. The loop with no elastic could be a struggle. If P has a binky in her mouth and is sleeping how can I unhook this and not wake her up? If the loop somehow can open and I could easily disconnect the clip from the binky it would be so much easier.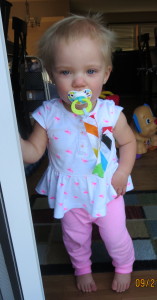 The Diddiboo Unisex Pacifier Clips-Animals are only $14.79 and the Diddiboo Unisex Pacifier Clips-Country is $13.79 on Amazon.com. Click here to order your Diddiboo Unisex Pacifier Clips-Animals or Country. #diddiboo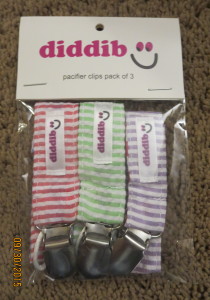 I was chosen to review the Diddiboo Unisex Pacifier Clips through Tomoson.com. Basically how it works is you select items you would like to review and if they chose you, the product is purchased through Amazon.com. If you have a Prime Account with Amazon shipping is free and a coupon code is provided from the company making the product free or highly discounted. In exchange they are looking for an honest review on their product.
Disclaimer: I have never claimed to be any great writer. So any mistakes that are made are my fault. Sometimes I mix up names B, S, and P, but I think you can figure out who I am talking about. If you find any grammatical errors just fix it in your mind so it sounds right.