Here are all of the cakes I have decorated for events.  I took a few cake decorating classes when I was a senior in high school once a week at night.  I really liked it and continued to decorate cakes.  I can thank my Grandma, because she used to decorate cakes for birthdays and weddings.  I have never done a wedding nor do I want to decorate a wedding cake.  Way to much pressure for me.  I made my baby shower cakes and that was enough pressure for to last a lifetime.
My first ever cake I decorated for one of my nieces was an Elmo cake.  Unfortunately, my computer crashed and I lost that picture, however, I did recreate the cake again for my other nieces birthday, so look below for the Elmo cake.  July 2006
Picture Lost
Elmo Cake
This is a Dora the Explorer Star Mountain Cake.  My first ever multi-tiered cake and I was really apprehensive about making this cake.  There is so much frosting on this cake to make it look like a mountain with a waterfall and steps leading to the top.  July 2007
I had to have another cake that complimented the Start Mountain cake so I made a big star cake for my other niece.  July 2007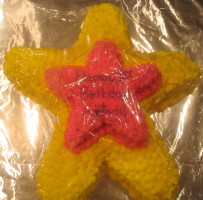 Max & Ruby cake was for my niece's 4th birthday.  Yes I did the whole thing free hand.  I looked at some pictures and was able to recreate them almost perfectly.  It was a complete coincidence that I made the right number of balloons to be able to write "Max and Ruby" in them.  So the saying "Max and Ruby Wish a Happy 4th Birthday Kennedy!"  Since this was Max and Ruby theme, it was a carrot cake with homemade cream cheese frosting.  It was delicious!  You'll have to trust me on that one.  July 2008
Two years later I recreated the Elmo cake.  This is what the cake looked like the first time.  The cake itself is Red Velvet so when you cut into the cake it is all red.  July 2008
Backyardigan Character Cakes.  My niece was really into the Backyardigans so I made all five characters heads.  All of the cakes started out as round cakes that I carved into the characters.  Each cake was a different flavor.  I tried to match them up with the color of the characters.  August 2008
I did a duel birthday cake for my nieces because they did a princess theme birthday party.  The towers are made out of regular and sugar ice cream cones.  July 2009
My other niece wanted SpongeBob for her 2nd birthday party.  I went all out and made her SpongeBob.  This is also the day I told my family I was pregnant with S.  (I was 21 weeks and told everyone by saying "It's a boy!" on my tank top).  August 2009
Believe it or not I decided to make my baby shower cakes.  I had two showers, in one weekend, so I only had to decorate my backyard once.  I thought blocks would be a cute idea for the cake having each block be a different flavor and have a different filling.  My first attempt did not go we well.  When I woke up the next morning the top block had slid off and I had to fix it before the baby shower.  What a mess.  I also made a pig out of white chocolate using a metal cake mold.  It was really for a teddy bear so I just carved the bear into a pig, painted a diaper and binky on it and I had a baby pig.  I made two identical cakes once for each day.  I did use the same chocolate pig so I did not have to make two of them. September 2009
Yes, if you are wondering, I supported it with wooden rods and it still did not hold.  My guess is too much filling and it wasn't pound cake.
The white chocolate pig with a diaper, and binky.
The cake redone after the top layer fell.  It is not my best, but I thought it was a pretty good save for what it looked like when I woke up.  No I never took any pictures of that, but should have.
I made S's baptism cake.  I wanted it to look just like his baptism outfit, which I think turned out to be a pretty good replica. February 2010
For my nieces 3rd birthday, my sister was doing a movie theme.  So she asked me to make a Marquee cake with working lights.  How in the world was I suppose to do that?  I think she was watching too much Cake Boss.  But I never let her down and gave her a working marquee. August 2010
For S's first birthday we had it at a local skating rink.  S loved being pushed around the skating rink and he shared his birthday party with his cousin.  So each one got a roller skate.  I made and decorated S's roller skate and Lila's mom decorated her roller skate.  For all of the guest I did cupcakes.  December 2010
For my nieces 4th birthday  she planned on having a tea party themed birthday.  It didn't work out but I had spent over a week making all the pieces for this birthday cake and a teapot cake was what she was getting.  My sister requested a fondant covered cake.  I had never used fondant before.  I decided to make my own with marshmallow and powdered sugar.  It turned out great.  The spout and handle were all fondant and too heavy for the cake to hold so they only went in for the picture.  We never even cut into the cake because I made cupcakes with fondant dots on them.  August 2011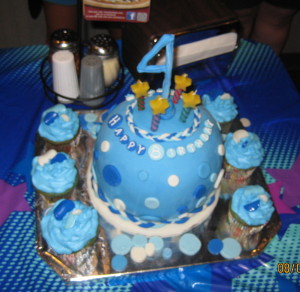 S was totally into Santa and Christmas around his second birthday.  Of course I ran with it and did a Santa cake for S and Christmas Tree Cupcakes for everyone else.  It was a pumpkin flavored cake with cream cheese frosting.  The frosting didn't set so it was a little runny but tasted great.  Each cupcake had a chocolate Christmas bulb on them.  December 2011
For S's second birthday we did another joint birthday party.  This time it was still with his cousin Lila but now her little brother Logan (who is S's best friend).  Their mom made them bears.  Logan's is dressed in John Deere green overalls, and Lila's is in a red dress with bows in her hair.  Of course I had to make S a pig cake.  It is very similar to the cake topper I made for my baby shower (it is the same cake pan/mold).  They each got to dig into their cakes and everyone else had cupcakes.  December 2011
For my nieces 5th birthday she was having a princess themed party.  Again my sister wanted a fondant cake and if possible a tiered white cake.  I made the bottom tier striped, and the second was covered in stars that each had a princess on it.  I used princess magnets and glued them on the fondant stars.  For the trim around the cake bottoms I used fondant rolled into balls.  This cake was never cut into because I also made cupcakes.  August 2012
I made sugar cookies to look like oyster shells.  Basically I made round cookies and when I took them out of the oven I ran a knife over them to create the lines.  The pearls were fondant and I used frosting to seel the back-end of the cookies.
For S's third birthday I made him trains, trains, and more trains!  I made him a train and carts out of cake.  Then I made a Rice Krispie train, and a train out of cookies.  There were so many options.  December 2012
I decorated each car in the train cake differently.  I used tootsie rolls to make logs, accented each tire with a rolled out tootsie rolls.  I baked a half sheet cake and then cut it up into 8 rectangles to make all the carts, engine, and caboose.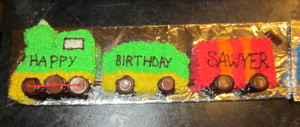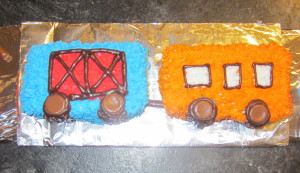 We bought a train mold to make Rice Krispie trains and finally used it for his birthday.  I did all the frosting work on it and let B go crazy decorating it all with candy.  There was a gum drop for the train stack, jelly beans in a cart, chocolate chips for the coal, and gummy lifesavers for the wheels.
By this point I was running out of steam (no pun intended) and did a quick job of decorating each cookie.  I made 4 sets of cookie trains.  We bought the cookie cutters at the Apple Butter Festival and S was always asking if we could make train cookies.  This was the perfect little surprise for him.

S was still so into trains.  So I finally used the train cake mold I got from my grandma and made him his coveted Thomas the Train cake (I used the same cake mold to make the roller skate!).  I decorated the cake while S was taking a nap so he never got to see it until his party.  It took me about 3 1/2 hours to decorate it because all the details had to be just right or S would know.  December 2013
I made cupcakes for P's baptism.  I was trying to make it one big cake out of cupcakes.  I wasn't sure if I should frost individually or smooth all the frosting out.  Well I tried to shape it with the top, go in for the waist and back our for the bottom.  Instead of doing a swirl design I should have frosted each cupcake smooth so that you could see the intricate design of frosting I did over the top of the cupcakes connecting them.  I should have done the design in a different shape, maybe a soft yellow or something.  Not pink.  October 2014
For S's 5th birthday he wanted a racetrack, then a car, then the number five.  How in the world could I incorporate all of these into one.  I figured it out and think it turned out great.  December 2014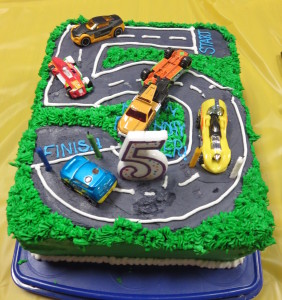 For P's first birthday we based the entire party off of her party dress B picked out when she was just a baby.  So we had polka dots and fish.  We came up with the theme of 'bubbles.'  Now what kind of cake do we make her?  I came up with the saying "Pop on over for bubble fun to celebrate our little fish turning one."  Now I could make her the fish cake that I tore a picture out of a magazine four years ago.  The cake was made from two 9″ round pans.  I really liked how this goldfish turned out.  I entered the cake in the library cake decorating contest in the adult division.  May 2015
S wanted to enter the library cake decorating contest in the children division.  We talked about it and he wanted to do a M&M cake.  He would pick the cake pan, I would do an outline of the cake pan features and he would put all the M&Ms on the cake himself.  When we were making this cake just looking at it you could not tell what it was.  I started taking pictures in progress so I could scrapbook it and all of a sudden in the pictures you could see what it was.  We made this cake for our neighbor for her 32th birthday.  That is why the number 32 is on the car.
S had been begging me to make another M&M cake.  We decided on a Minnion cake.   This time S was tired and asked for help putting the M&Ms on.  I did the outline on the cake so he could see the Minnion.  I think we did awesome teamwork and it turned out great. July 2015
Disclaimer: I have never claimed to be any great writer. So any mistakes that are made are my fault. Sometimes I mix up names B, S, and P, but I think you can figure out who I am talking about. If you find any grammatical errors just fix it in your mind so it sounds right.