Disclaimer:  I received this product for free or highly discounted in exchange for an honest review.  All thoughts and opinions expressed are mine.

When I got married in Hawaii, part of a package we got as a welcome gift in our hotel room was a voucher for a bag at a Del Sol store.  I had never heard of a Del Sol store and did not even know what they sold.  To my surprise when I went in the store they sold products that were plain pictures and when put under UV lights the pictures would turn into wonderful colorful pictures.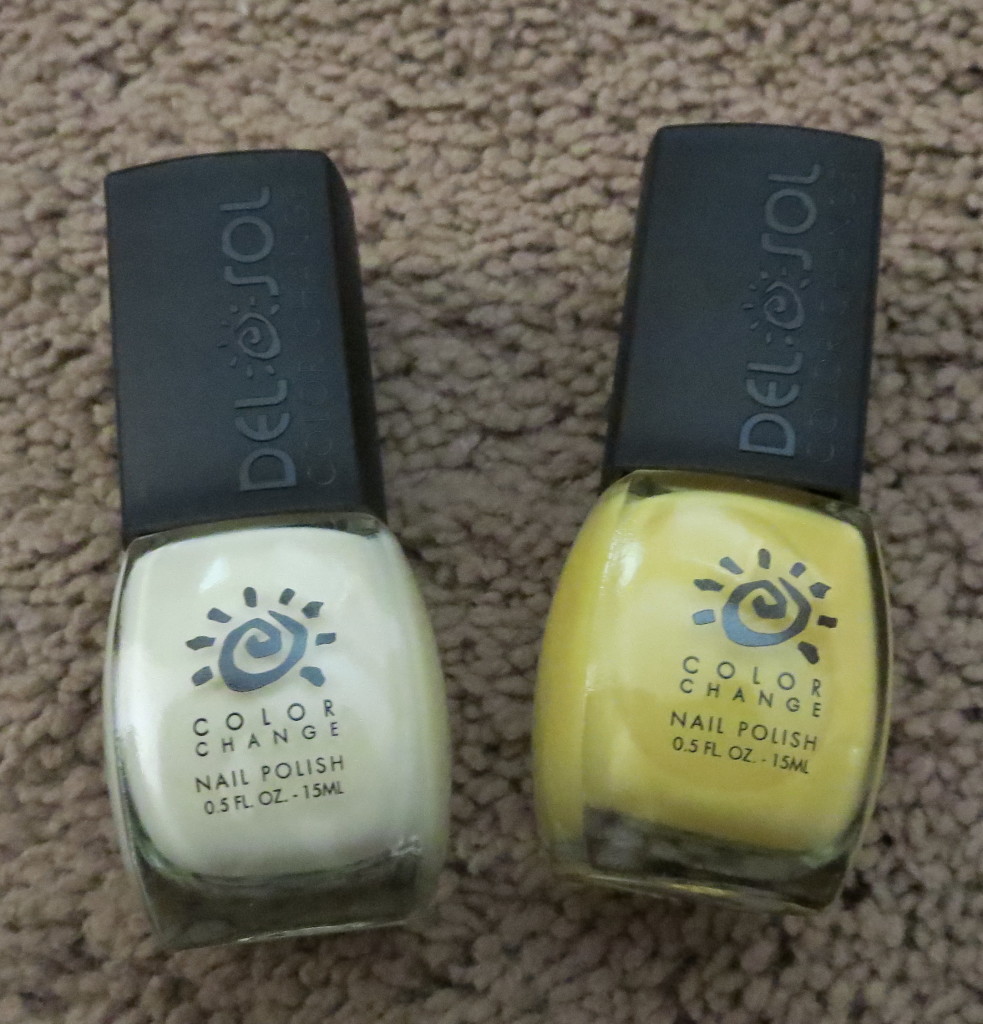 The bag I got was a plain canvas color with a drawing of a sun on the front of the bag.  When I put the bag in the sunlight it would come to life and had such vivid colors.  The variety of items that are sold in the store and online which range from sunglasses, shoes, shirts, nail polish, and more.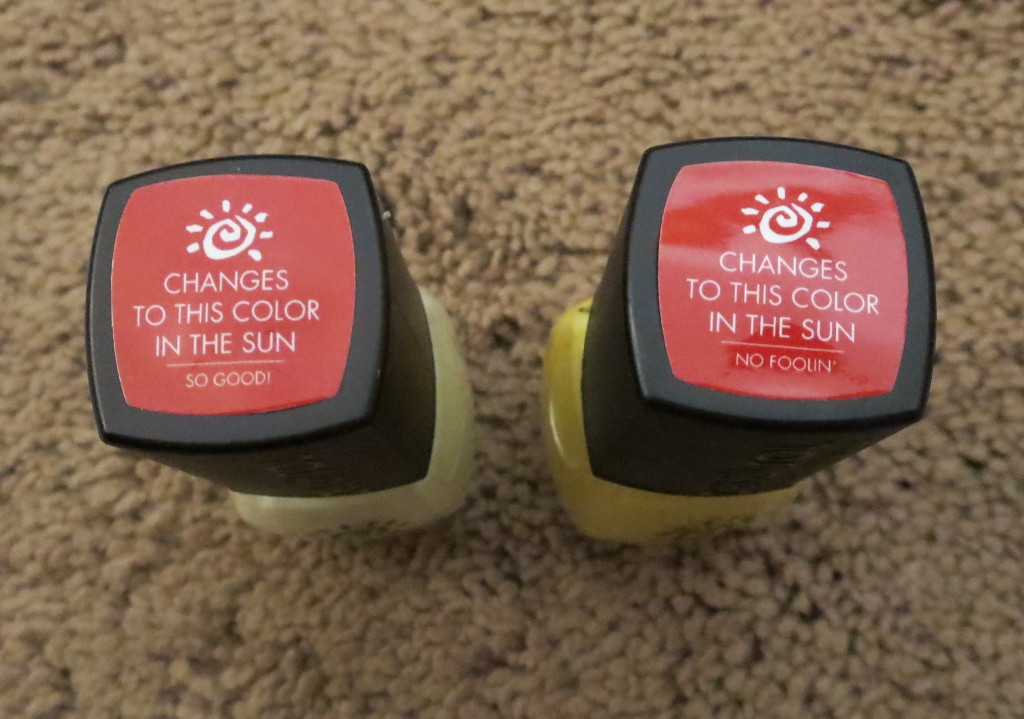 I got the Del Sol "So Good" color of nail polish to try.  I thought this would look good for a French manicure on my toes.  When I wear it with dress shoes and around the house it will be a pale yellow/white, and when I am out in the sun playing it will be a deep orange/red color.  I also received another bottle called "No Foolin" which I plan on trying next summer.
I knew their clothes and accessories changed clothes in the sun, but I was hesitant about the nail polish actually being able to change colors.  I am not sure what makes it change colors.  The first attempt at putting this on I applied one thin coat.  The next day I went outside in the sun and set my hand in the sun.  I sat there for about five minutes and the color barely changed.  It turned to a pale orange.  I was disappointed with the color change.

I applied two more coats of polish.  After the polish dried I went out and stood in the driveway.  I wanted to make sure I was standing directly with the sun rays facing me.  It took about 2-3 minutes and the nail polish had darkened to an orange/red color.  It never quite made it to the deep red color on the bottle, but I think if it was summer rays versus winter rays it would turn darker.  I was curious how long it would take for the nail polish to turn back into the pale yellow.  After about 30 minutes it had returned to the pale yellow.  I did not try to put a top clear coat on the nail polish, but it definitely needs it to prevent chipping.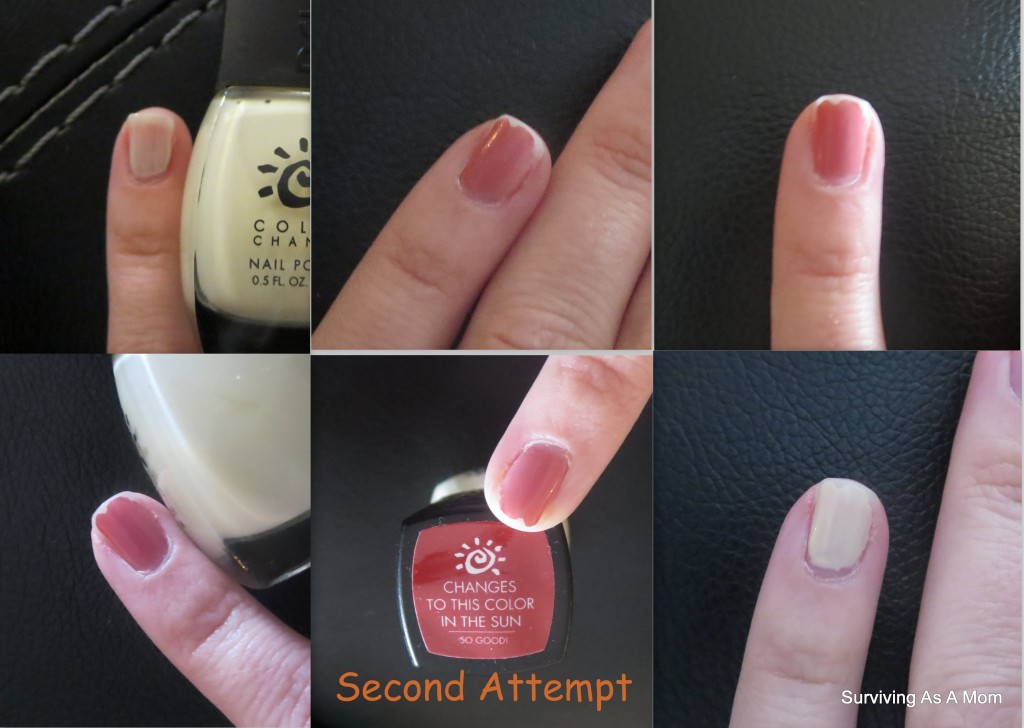 The Color-Changing Nail Polish by Del Sol is $10.00 a bottle on DelSol.com.  Free shipping for all orders over $35.  Del Sol now offers a monthly subscription box for only $19.99.  Each box includes 3 new nail polishes or 2 new nail polishes and 1 nail art product.  #delsolnailpolish
I was chosen to review the Color-Changing Nail Polish by Del Sol through Tomoson.com.  Basically how it works is you select items you would like to review and if they chose you, the product the shipping is free and a coupon code is provided from the company making the product free or highly discounted.  In exchange they are looking for an honest review on their product.
Disclaimer: I have never claimed to be any great writer. So any mistakes that are made are my fault. Sometimes I mix up names B, S, and P, but I think you can figure out who I am talking about. If you find any grammatical errors just fix it in your mind so it sounds right.