July 12, 2013
Comments Off

on Colgate Total Mouthwash VoxBox Review
After signing up on Influenster.com, I was confused on how to earn badges and points.  In order to be considered for reviewing products you have to reach certain levels of badges.  Somehow I got an email saying I was being considered for the Colgate Mouthwash VoxBox.  I took the survey and what do you know I got the box in the mail before I received the email saying I was selected.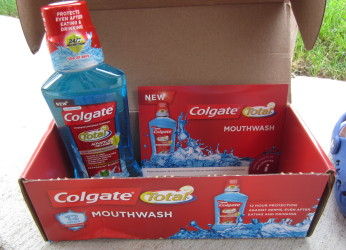 When collecting my boxes from the mail lady I saw this box and new exactly what it was.  No surprise what was in this box.

This was a good size bottle of mouthwash and I was excited to try it.  I used it at night after brushing my teeth before I headed for bed.  It was not overly strong and did not burn.  I really liked the minty flavor and was surprised when I woke up how fresh my breath still was.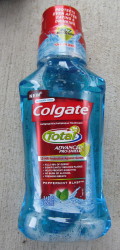 I have been using this twice a day now for about a week.  I do not notice any significant changes or differences.  I have just added it to my daily routine when brushing my teeth.  I will see if I notice any long term changes by the end of the bottle.
Disclosure: I received this box complimentary from Influenster.com, no compensation was received. In exchange I was requested to give my opinions on the products in the box.
Disclaimer: I have never claimed to be any great writer. So any mistakes that are made are my fault. Sometimes I mix up names B, S, and P, but I think you can figure out who I am talking about. If you find any grammatical errors just fix it in your mind so it sounds right.