May 7, 2013
Comments Off

on Clearance Finds
I had to return a dress to Old Navy today and was hoping to find the Snoopy 4th of July shirt I saw online while I was there.  I did not find the shirt, but I did find some great finds for S.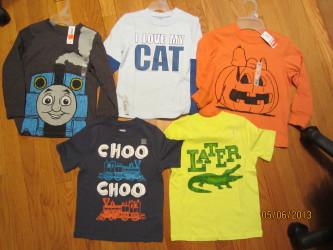 Thomas the Train-$4.49

I Love My Cat (B said I couldn't order this for S, but since I found it on clearance I got it!)-$3.49
Snoopy Pumpkin Halloween-.97
Choo Choo Train-On sale for $6.00
Later Gator-On sale for $6.00
Yesterday was the last day for Stuff n Save so I got an additional 30% off the shirts.  I got all 5 of the shirts for under $15.  I think that is a great price.  S was in love with all of these shirts.  The train shirt is so cute I couldn't pass it up, and lately S has been obsessed with alligators.  I have a love hate relationship with Old Navy.  Sometimes I love to go there when I can find great stuff and hate when I go and cannot find anything.  The clothes for women are just not the same as what they used to be.  I worked at Old Navy for 5 years so I know what the  clothes used to be like versus now.  What do you think of Old Navy?
Disclaimer: I have never claimed to be any great writer. So any mistakes that are made are my fault. Sometimes I mix up names B, S, and P, but I think you can figure out who I am talking about. If you find any grammatical errors just fix it in your mind so it sounds right.