December 15, 2015
Comments Off

on Cave Tools Meat Claws Review
Disclaimer:  I received this product for free or highly discounted in exchange for an honest review.  All thoughts and opinions expressed are mine.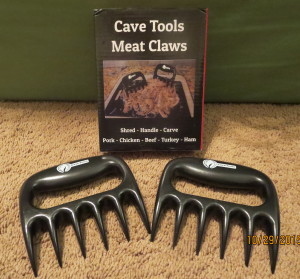 I have worked with Cave Tools before and reviewed there Kabob set.  They contacted me again and asked me if I would like to review another product.  Of course, I would.  I actually got to check out their different products and select the one BBQ or cooking product I was interested in.  I could choose from a grill brush, BBQ tool set, digital cooking thermometer, meat claws, meat tenderizer, or kabob set.
B has wanted to try the Cave Tools Meat Claws for a while now and I thought this would be the perfect opportunity.  Traditionally meat claws are used to pull meat apart to shred it.  They can make quick work shredding for pulled pork, chicken, beef, brisket, turkey, hams, and roasts.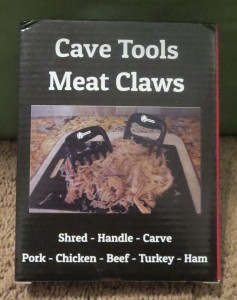 I saw that meat claws could be used for so much more and wanted to try them myself.   I could not believe how sharp the meat claw points were.  The meat claws can be used almost like a carving fork.  You can use the claws to stab into a rind of a watermelon while you are cutting it to stabilize it.  That's awesome, no more rolling around while I am trying to cut it.  The meat claws can also be used to hold the turkey stable on Thanksgiving while you are carving it.  I took my claws to my dad's and let him try them when he was carving the turkey.  My dad said they actually made it quite easy for him when he was cutting the turkey.
The Cave Tools Meat Claws are on sale for only $9.99.  Click here to order your Cave Tools Meat Claws.  The Cave Tools Meat Claws can be purchased on Amazon.com for $19.99  .  Click here to order your Cave Tools Meat Claws on Amazon.  Cave Tools is currently offering a discount on Amazon of 15% off with the discount code.
Disclaimer: I have never claimed to be any great writer. So any mistakes that are made are my fault. Sometimes I mix up names B, S, and P, but I think you can figure out who I am talking about. If you find any grammatical errors just fix it in your mind so it sounds right.