May 4, 2013
Comments Off

on Carefree Crafts May Celebrate Mom! Review
Carefree Crafts is a monthly kids craft subscription club aimed at kids 3-10. Each month you'll get a curated package of fun crafts that you and your kids can assemble. Each month is centered on a holiday or seasonal theme, and once completed, the crafts become toys or decorations for your kids.  The subscription starts at $9.95 with $4.95 for shipping.  So the total for subscription is $14.90/month (some months cost less, I did not find any that cost more).  You can also get crafts a la carte so if you only want a few, or want certain crafts you did not receive you can buy them.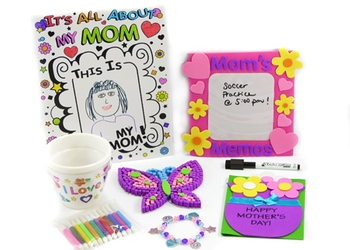 Carefree Crafts came in a padded envelope via USPS.  I got a confirmation that it was shipped on Monday and was surprised how fast it came.  It was addressed to S, so it made his day to get a package in the mail and not just an envelope.
When S and I opened the package all of the materials were in a clear Ziploc bag.  Below you can see a shot of what the package looked like.  There were 5 Mother's Day related crafts enclosed in the Celebrate Mom! kit.  It also gave a brief description of each craft and some tips on explaining ways to celebrate Mother's Day.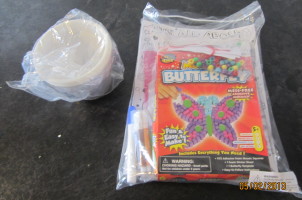 Color a Flower Pot for Mom-This craft stumped me when I opened the package.   The cup/pot was outside of the Ziploc bag and I was bummed there were no directions included.  Once reading the overview I saw I am supposed to pick one of the three designs and color it with the markers included.  Hopefully I can figure out how to get the designs out of the pot and then be able to put it back.  S will have fun doing this craft, but it may be a little too old for him.  He likes to chicken scratch more than anything else when he colors.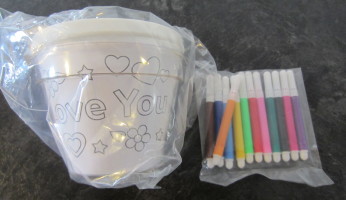 Mom's Memo Board– This is cute and made out of foam with a small magnetic board to attach to the front.  It also came with a marker that has a magnet so the marker will stay with the board.  It's cute but very girly.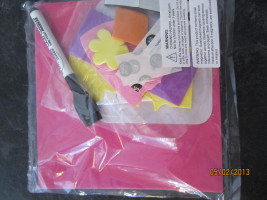 Mother's Day Flower Card-This card is really cute and made of foam.  I really like this and think we may make it for my mom (aka grandma) for Mother's Day.  It even comes with a cute poem for inside the card to complete it.
Update:
I had S make this for my mom for Mother's Day.  I loved how cute this card is, but it was all glue this time.  I figured after last month that these would be stickers and perfect for S to do.  We had to glue everything and S is not a fan of getting sticky stuff on his hands.
All About My Mom Card-This card looks like a school folder.  It is all about coloring it for mom and filling in the blanks.  The outside of the folder says, "It's all about my mom…This is….my mom!"  The idea is to draw a picture of what you think your mom looks like.  The inside of the card has the following blanks, "My Mom's name is……My Mom likes to…..My Mom's favorite hobby…..My Mom's favorite flower…..My Mom has taught me…..Mom's favorite food…..My favorite memory…..I love my Mom because…..My Mom helps me…..Things to do with my mom."  Again this craft is a little too old for S to do, but we will try it or maybe I will have F (S cousin) make it for my sister.
Update:
This was way to old of a craft for S to do, so I let F (S Cousin) do it for my sister.  This is perfect for a 6 year old.
Mom's Rainbow Bracelet-This bracelet kit came with a string and beads to make a bracelet.  This is right up S alley and he likes making bracelets.  He is a little OCD when it comes to what order the colors go in, but he does enjoy these kinds of crafts.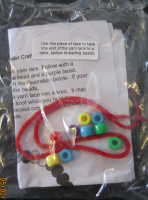 Update
: S wanted to make a bracelet, which he loves to do.  When it came time to tie the know and finish the bracelet, S decided he wanted to make it again and took all of the beads off of the yarn to start over.  So there is no finish picture, but only in progress pictures.
Make a Butterfly Mosaic for Mom-This looks cute and when I first saw this I thought it was one of those crafts that you create and then iron to melt the little plastic beads together.  This is not that.  The little pieces are foam squares that adhere to a sticky backing.  I am hoping that the butterfly template is sticky and not each individual square, because that will be a lot of little pieces of paper to peel off.  After I looked at the box I saw that it has 975 adhesive foam squares.  With almost 1,000 pieces included I cannot imagine S will sit and complete the whole thing in one sitting.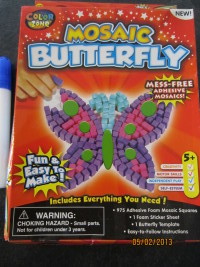 I think this is great to have everything you need to complete 5 really cute crafts.  I love that they all related to each other and had one theme.  S and I will have fun doing all of these crafts and I liked not having to search for the glue or string to complete these projects. I'm not sure we are going to order another month because almost all of the crafts for this month were too old for S.   I will post pictures of the crafts when they are completed, along with how S liked them so check back to this posting to see the final products.
What do you think about Carefree Crafts? If you are interested in signing they are offering the first month for only $5.95 using SAVE60 coupon code! If you want to sign up or learn more click here.
Disclaimer: I have never claimed to be any great writer. So any mistakes that are made are my fault. Sometimes I mix up names B, S, and P, but I think you can figure out who I am talking about. If you find any grammatical errors just fix it in your mind so it sounds right.