June 3, 2013
Comments Off

on Carefree Crafts June Thanks, Dad! Review
[adsenseyu4]
Carefree Crafts is a monthly kid's craft subscription club aimed at kids 3-10. Each month you'll get a curated package of fun crafts that you and your kids can assemble. Each month is centered on a holiday or seasonal theme, and once completed; the crafts become toys or decorations for your kids.  The subscription starts at $9.95 with $4.95 for shipping.  So the total for subscription is $14.95/month (some months cost less, I did not find any that cost more).  You can also get crafts a la carte so if you only want a few, or want certain crafts you did not receive you can buy them.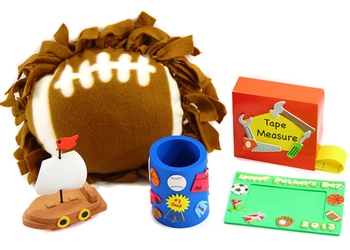 Carefree Crafts came in a padded envelope via USPS.  I got a confirmation that it was shipped on Friday and got it in the mail Saturday.  It was addressed to S, so it made his day to get a package in the mail and not just an envelope.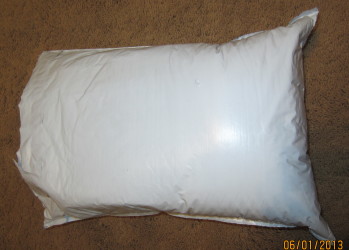 When S and I opened the package it was stuffed full of crafts.  Here are the crafts included for this month. There were 5 Father's Day related crafts enclosed in the Thanks, Dad kit.  It also gave a brief description of each craft and some tips on explaining ways to say thank you to dad on Father's Day.
No-Sew Football Pillow-This pillow is such a cute idea.  It came with the stuffing which I was curious if it would (It says everything is included, but I wasn't sure).  B is not into sports at all, so I thought this would be perfect for S's cousin F to make for her dad.
Father's Day Can Hug-This cozy is so cute.  How easy is this going to be to make?  They are just foam stickers you attach to the cozy.  We got a orange cozy instead of the blue one pictured.  S will be able to do this no problem, I just wonder how well the stickers are going to stick on the cozy.
Update:
S loved making this cozy.  It was a very easy project for him to do.  After a few days the stickers are starting to peel off of the cozy, but S enjoyed making it and that is all that matters.  S decided he is going to give this to his Grandpa Bob for Father's Day.
"You Rule" Tape Measure-I loved the idea of this and knew S would love to make it.  I mean a tape measure for him to use.  The box is made of cardboard so I am not sure it will make it past one or two playing's before it is smooshed.  At least S will have a ton of fun making this.
Floating Foam Ship-This ship looks like it connects without using any glue.  This is like a puzzle fitting the pieces together correctly will make a ship.   It says this boat will float in a kiddie pool, or bowl of water.  I am debating do I save it with the pirate party supplies I have been collecting for a future pirate party (I am sure we will have one eventually.) or do I let S make it now and play with it?  Not sure what I am going to do.
Father's Day Photo Frame-This is a cute foam frame that is made by sticking together with glue dots and foam stickers.  S should have no problem making this for S.  Now to find a picture.  That may be a problem.  I have not printed off pictures since the last Costco sale on 4×6's.
Update:
S made this for B, and I let him pick the stickers out of this collection and the cozy cup stickers that he thought described B.  Notice there are no sports stickers because that is not B at all and S does not associate that with B.  When he talks about his dada it is tools and cars.  S had a great time making this for B.
This month no glue stick!!!  Although everything did not come in a big Ziploc bag like past months, it was all individually packaged.  I think this is great to have everything you need to complete 5 really cute crafts.  I love that they all had one theme.  S and I will have fun doing all of these crafts and I liked not having to search for the glue dots or stickers to complete these projects. All of the crafts look like S can make them no problem.  He may need a little help with assembly but can decorate all of the crafts himself.   I will post pictures of the crafts when they are completed, along with how S liked them so check back to this posting to see the final products.
What do you think about Carefree Crafts? If you are interested in signing they are offering the first month for only $5.95 using SAVE60 coupon code! If you want to sign up or learn more click here.
Disclaimer: I have never claimed to be any great writer. So any mistakes that are made are my fault. Sometimes I mix up names B, S, and P, but I think you can figure out who I am talking about. If you find any grammatical errors just fix it in your mind so it sounds right.