Carefree Crafts is a monthly kid's craft subscription club aimed at kids 3-10. Each month you'll get a curated package of fun crafts that you and your kids can assemble. Each month is centered on a holiday or seasonal theme, and once completed; the crafts become toys or decorations for your kids.  The monthly subscription is $14.95/month.  You can also get crafts a la carte so if you only want a few, or want certain crafts you did not receive you can buy them.
Carefree Crafts came in a padded envelope via USPS. I got a confirmation that this was shipped and totally forgot about it until I saw it in the mail on Monday.  It was addressed to S, so it made his day to get a package in the mail and not just an envelope.
Paper Stained Glass-I am not sure if S will have the patience to accomplish this craft.  We will use tissue paper to create the paper stained glass mosaic.  I think this may take quite a bit of help from me.
Sandcastle Magnetic Photo Frame-S should have no problem making this craft all on his own.  I cannot wait to put a picture of S in this castle of him in his little swim trunks.
Beach Sand Art-We have done this craft before (April Review) and now that we know how to do it the right way, I cannot wait to do this with S.  We did not get the sand art whale scene that was on the information sheet, we got a great beach scene with a sandcastle.
Fish Catch Game-S loved this and we had to make this right away.  I think S thought this was going to be a paddle ball game instead of a catch game.  This is again another foam craft which is great for S at this age.  We had to dive right into this. (No pun intended.)
Update-S made this craft right away and liked everything when he looked at it.  Unfortunately, the string needed to attach the fish to the paddle was not in the bag of supplies.  Thank goodness for B who was able to save the day and get string from the garage to complete the craft.   S loved making the orange bead into a fish.  He thought it was so funny to add fins.  The only drawback for me was that we had to use glue to attach all the foam pieces which is a little too messy for me. I prefer stickers or glue dots.
Crab Headband-This looks like a lot of fun to make.  When I asked S to make this he simply told me, "No, I not a crab, I Sawyer."  This may take some talking into on my part to convince him to make the crab headband.
Lei-S was excited to make this and wanted to make it so he could wear it to the demolition derby. I convinced him that we did not have time and would make it another day.  This looks like we will be stringing silk flowers and straws together to make the lei.
All of the crafts look like S will be able to make them with minimal help from me.  The only craft I will be giving lots of help on will be the paper stained glass sun. This month's crafts really look like they will be fun to make and I love how beachy all the crafts are.   I will post pictures of the crafts when they are completed, along with how S liked them so check back to this posting to see the final products.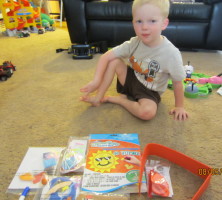 What do you think about Carefree Crafts? If you are interested in signing they are offering the first month for only $5.95 using SAVE60 coupon code! If you want to sign up or learn more click here.
Disclaimer: I have never claimed to be any great writer. So any mistakes that are made are my fault. Sometimes I mix up names B, S, and P, but I think you can figure out who I am talking about. If you find any grammatical errors just fix it in your mind so it sounds right.