October 6, 2013
Comments Off

on Carefree Craft October Happy Halloween! Review
Carefree Crafts is a monthly kid's craft subscription club aimed at kids 3-10. Each month you'll get a curated package of fun crafts that you and your kids can assemble. Each month is centered on a holiday or seasonal theme, and once completed; the crafts become toys or decorations for your kids.  The monthly subscription is $14.95/month.  You can also get crafts a la carte so if you only want a few, or want certain crafts you did not receive you can buy them.
Carefree Crafts came in a padded envelope via USPS. I got an email saying S's package had shipped and it was in the mailbox the next day.  It was addressed to S, so it made his day to get a package in the mail and not just an envelope.
When S and I opened the package he was so excited to see what crafts were included.  Here are the crafts included for this month. There were 6 Halloween related crafts enclosed in the Happy Halloween! kit.  It also gave a brief description of each craft and some fun Halloween facts.  This month was the first time that I can remember we did not get a glue stick.  Yeah, and then I saw permanent markers.  Still going to be a messy month, but we love it!
Color a Trick-or-Treat Bag-When we opened the outer package all of the crafts were inside this bag.  This first thing S says when he see this, I always wanted one.  Really, do you even know what it is?
Monster Pumpkin-The picture on the information sheet shows it to be orange, the one we received was white.  Then I read on the description that you need to color the lantern with the markers included.  Either we will make it a ghost or I am guessing S will be asking me to color it orange (or red his favorite color) for him.
Update: S has been into eyeballs lately.  Every time we go to a store he always points out the eyeballs in the Halloween section.  So instead of making the recommended orange pumpkin we made an eyeball.  S loves it and we are going to hang it on the entertainment center.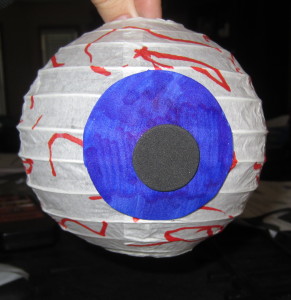 Halloween Lacing Puppet-There were three different puppets you could have received.  We got the one that was on the info sheet the green witch.  I am not sure S knew what this was when he looked at the package, but he does know how to use a puppet.  I am sure he will have fun with this playing with Baby A.
Spider Puppet-I showed this to S and the first thing he said was, "I don't like spiders."  When I told him it was not a real puppet, just a craft we are going to make.  He was okay with it, but I do not think he is 100% sure about it.  I think he will like it after we make it.
Update: S is really scared of spiders and it still took some convincing to make this craft.  Once we made it I pretended I was scared of the big spider so now he thinks it is funny to scare me with it.  That's better then him being scared of the spider.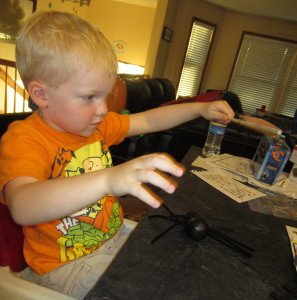 Tissue Paper Ghost-I do not see S being able to do this craft.  I think this may be above his skill level.  If we make this we may have to do the tissue paper a little different.  We'll see what S wants to do when it comes time.
Masquerade Ball Sticker Scene- This seems like a really easy craft for S to do.  Somehow I think he is going to end up sticking the stickers on me and him instead of creating a scene.  He just likes to have us wear stickers instead of putting them on paper.
The crafts look really fun, but I don't think S is going to be able to do any of them except for the sticker scene without some serious involvement from me.  I could be wrong and will only know once we have tried the crafts.  I plan to try and do a lot of these crafts this week and will post pictures of the crafts when they are completed, along with how S liked them so check back to this posting to see the final products.
What do you think about Carefree Crafts? If you are interested in signing they are offering the first month for only $7.95 using FALLDEAL coupon code! If you want to sign up or learn more click here.
Disclosure: All thoughts and opinions are all of mine and a little of S!
Disclaimer: I have never claimed to be any great writer. So any mistakes that are made are my fault. Sometimes I mix up names B, S, and P, but I think you can figure out who I am talking about. If you find any grammatical errors just fix it in your mind so it sounds right.