October 13, 2015
Comments Off

on Car Windshield Sunshade by Alphashades Review
Disclaimer: I received this product for free or highly discounted in exchange for an honest review. All thoughts and opinions expressed are mine.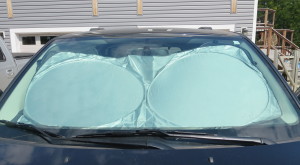 I have always wanted one of those huge shades you put in your front windshield to help keep some of the heat out. I hate when I get in a hot car and it makes me even more hot than I already am. I keep a towel in the car so I can put it on my seat so my legs don't get burnt from the sun on the seats.
When I got the Car Windshield Sunshade by Alphashades I was so excited to put in the car. Unfortunately it had no instructions with it and I could not figure out how to install it. It came with four black suction cup clips. What the heck am I supposed to do with these clips. They didn't fit on the windshield shade. The windshield shade didn't fit in the window it was too small and kept falling down so I thought maybe the clips were supposed to hold it in place. They didn't work. The clips worked on the small sunshades. I thought these sunshades were supposed to be for the side windows? Maybe I am supposed to put them on the front window and that is what held the car windshield sunshade. It kind of worked.
When B got in the car later I guess he laughed. The small sunshades are supposed to go on the side windows using the suction cup clips. The windshield sunshade should have fit in the window no problem. B said if we put the visors down it would hold the windshield sunshade sufficiently. I guess the joke was on me. B did say that the car was substantially cooler when he got in it. We have tried to use the shade a few times, but it drives me crazy. When I try to do it by myself it ends up falling down and I give up. If B and I are together we can get the sunshade to stay. It must take four hands to install it.
The Car Windshield Sunshade by Alphashades is $13.95 on Amazon.com. Click here to order Car Windshield Sunshade by Alphashades. #alphashades
I was chosen to review the Car Windshield Sunshade by Alphashades through Tomoson.com. Basically how it works is you select items you would like to review and if they chose you, the product is purchased through Amazon.com. If you have a Prime Account with Amazon shipping is free and a coupon code is provided from the company making the product free or highly discounted. In exchange they are looking for an honest review on their product.
Disclaimer: I have never claimed to be any great writer. So any mistakes that are made are my fault. Sometimes I mix up names B, S, and P, but I think you can figure out who I am talking about. If you find any grammatical errors just fix it in your mind so it sounds right.