November 30, 2015
Comments Off

on Baby Products You Never Thought You Would Use
Disclaimer: I received this product for free or highly discounted in exchange for an honest review. All thoughts and opinions expressed are mine.
When I look back at some of the products I used for the kids I laugh. I thought I had it figured out when I was pregnant and made my baby registry. I made sure I had everything I thought was necessary and then some. While I used most of what I got, I never would have thought I would want or use any of the following baby products. Now with my second child I have simplified it much more. I wouldn't use some of these for my first born, and have no idea why not. They have made it so much easier second time around.
Portable High Chair
I was all about having a portable high chair, shopping cart cover, and yes even a walking harness. I needed the portable high chair when we went out to eat; over to friends or family houses that did not have small children so I could still put the kids in a high chair to eat. To take my own portable high chair it took the worry out of how I was going to feed my child. I knew exactly how I was going to do it. We had a booster seat, or a portable seat that attached to most tables or counters. The one issue we had with both of them was the bulkiness. It was like we were carrying an additional child or bag with us.
We had a shopping cart cover in each car so we always had one no matter which car we took. They worked great and folded up into themselves, but always seemed to be the size of my purse. They were lightweight but the size was annoying when I was trying to carry my purse, baby/toddler, and shopping cart cover.
I did even end up purchasing a child's walking harness. We were going to Cedar Point and I knew I would never be able to keep a 2 ½ year old in a stroller the entire time. I was so worried about losing S that I wanted a hand on him at all times. S was really good about holding your hand when he walked but it would only take a second to lose him. With the walking harness he wore a little doggy strapped to his back and I held onto the tail of the dog. It worked out great, and I am glad we bought it, but we only used it a handful of times. From that day on we always carried it in the car with us in case we needed it. The only thing it ever did was take up space in the car.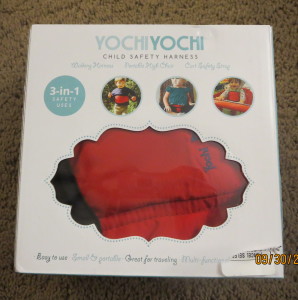 The Yochi Yochi Portable 3-in-1 Baby/Toddler Safety Harness is perfect to take for so many reasons. It folds up so small I easily fit it into one of the pockets on my diaper bag and is multi-functional cutting down on the number of products I have to bring with me. It serves as a portable high chair, shopping cart safety strap, and walking harness.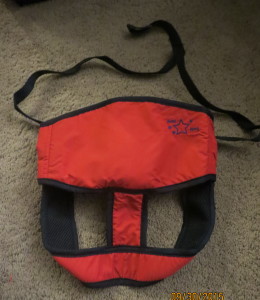 As a highchair it fits on most chairs and is an excellent space saver. It straps onto a chair securing the highchair to the seat. The child is them secured within the portable high chair by sticking their legs through the holes. This works great to use in restaurants, at family or friend's house, and more.
As a cart safety strap it helps to hold the child in the cart to help prevent the child from falling out. It easily wraps around the child's chest securing them to the cart. There is no more worrying about carrying a big shopping cart cover or hoping the straps within the cart are clean and work.
It can also be used as a walking harness to let your little one feel the freedom of walking around but stay safe and within reach. Just like with the shopping cart, you secure it around the child's chest. The straps that secure it to a chair when using it as a high chair are now the leash part of the walking harness.
To be able to use this one product and for it to replace three products is ingenious. Why in the world would anyone want to take three medium to large size baby items when you can take this small travel highchair/shopping cart strap/walking harness? This is so convenient to take with you. It easily fits in a small pocket of the diaper bag and I have even stuck it in my purse with no problems. The Yochi Yochi 3-in-1 portable safety harness can be easily wiped clean or washed in the washer. It is recommended to wash in a lingerie bag to protect the buckles and straps and protect your clothes from the Velcro closures. The Yochi Yochi 3-in-1 Portable Safety Harness comes in two colors red or black and can be purchased on Amazon.com for $26.99. #YochiYochiPortableHighChair
Pacifier Clips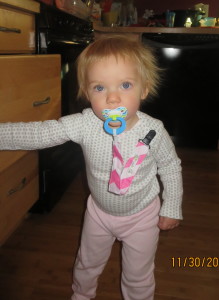 I have used pacifier clips with both of my kids. I love that they are binky babies. When they are fussy a binky calms them down right away. I don't know how parents do it without the binky. I did not like using binky clips that had the metal clip attachment. I always thought the metal could scratch a baby, the teeth could damage clothes, and I would not want the baby to chew on the metal clip. There really wasn't anything else out there when S was a baby. We found a few binky clips that were bear heads we used until S figured out how to pull them off. I would do anything to keep those binkies off the floor when we went places. Every place the binky touched ended up in their mouths. Just thinking of all those germs drives me nuts.
With P we found binky clips that had a plastic attachment. This fixed so many of the issues for me. I wasn't as concerned about the clips damaging the clothes because they were plastic teeth holding onto the clothes not metal. The plastic had soft round edges making it smooth against the baby skin. Lastly I wasn't as worried about P damaging her teeth if she chewed on the plastic clip versus a metal clip. The Stuff4Tots Soothie Holders were perfect for what we needed. You get four binky straps and can choose from boy colors or girl colors. I chose the girl colors and love them. There is one that is red. It is so hard to find girl products in any other color than pink. There were two pink straps but I loved the pattern on them. The last strap was teal/blue color. These are perfect and I love using them with P. The straps are long enough that I have even attached her sippy cup to them when we go for walks and attach the clip to her. It prevents us from having to stop every few feet to pick up the sippy cup again. The Stuff4Tots Soothie Holders 4-pack can be purchased on Amazon.com for $13.32. #stuff4tots
Diaper Changing Kit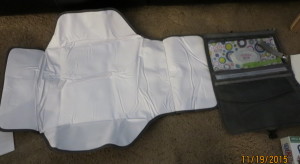 As kids get older it is no longer necessary to take a huge diaper bag with you everywhere you go. Now that P is a toddler I keep a diaper bag in the car with a change of clothes but rarely take it anywhere with us. Instead I just take a small diaper changing kit that contains a mat, diaper, and wipes.
The Beabies Travel Diaper Changing Kit has everything you need all in one spot. The kit opens up to a changing mat which is always needed, a place to hold one or two diapers and a pouch for wipes. The pouch that holds the diaper and wipes is attached to the mat with a zipper. It can easily be unzipped so you can wipe the mat clean when necessary. The changing kit has a convenient strap so you can easily attach it to your stroller or carry it around. The Beabies Travel Diaper Changing Kit can be purchased on Amazon.com for $15.99. #changingpad
Silicone Bibs
I used machine washable bibs that could fold up super small when we went places. The problem with them is they are not always the easiest to clean if you do not do it right away. Many times when the kids are done eating and we get them down it is right onto something else and cleaning the bib gets thrown on the back burner. Well the next time we go to use it, you have to get it completely wet to clean and then cannot use until it dries.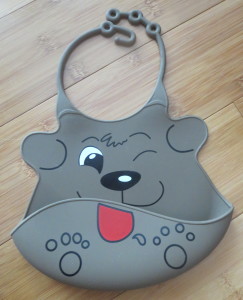 Silicone bibs are so much easier to use and clean. The Big Little Baby Dog Silicone Bib is beyond cute and works great. It is fairly easy to connect the straps. I love that the bottom of the bib is like a catch all for any food that misses the mouth. This bib can be rolled up and tucked into the fold for easy storage. The bib is 100% FDA approved silicone and dishwasher safe. When food gets left on the bib it is very easy to soak and wipe clean. Since it is silicone it does not absorb water making it easy to wipe dry and use immediately. You can purchase the Big Little Dog Silicone Bib on Amazon.com for $12.90.
Nail Clippers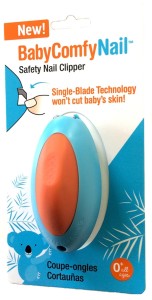 I knew I wanted to use baby nail clippers when it came time to cutting those tiny little nails. I wanted a sharp pair so it would cut the nails in one click and not bend them awkwardly like dull clippers could. Well I didn't realize how sharp they were and would sometimes cut the nails to close to the nail bed causing discomfort. I think I only made them bleed a few times if that.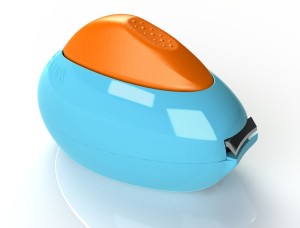 The Baby Comfy Nail Deluxe Safety Clipper is designed with only one blade so you don't cut baby skin. The bottom flat plastic ledge pushes the baby's skin back while the top blade cuts the nail. The plastic also sticks out a little past the blade so you do not cut to close to the nail bed. The ergonomic design of the clippers makes it easier to hold and use when cutting nails. This is definitely the nail clippers for a first-time parent or for someone who is very hesitant to cut their babies nails. The Baby Comfy Care Deluxe Safety Nail Clipper can be purchased on Amazon.com for $14.99. #babycomfynail
Lingerie Bags
I knew you traditionally used lingerie bags to hold delicates when you wash them to keep them protected from other clothes. I never really thought about using lingerie bags for tiny baby socks until I started to lose them. I say the washer ate them, but really I could have lost them at any point once they came off those little feet. I mean they go from the babies feet to the dirty hamper (hopefully), to a laundry basket, down to the basement to be sorted, and then tossed in the washer. I developed the habit of when I took off the baby socks I would put them directly into a lingerie bag I would hang from the dirty hamper. When it came time to do laundry all I had to do was unclip the bag, zip it closed, and toss in the laundry basket with the other clothes. It worked like a charm and I never lost another little sock, unless of course one of them took it off on their own when I wasn't looking and tossed it.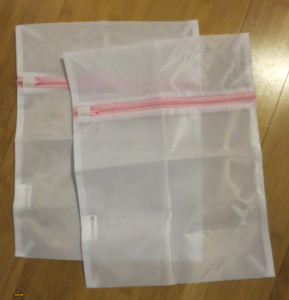 Any size lingerie bag will work, but I liked using a medium size bag a little smaller than 12in x 12in. The 2-pack WashGuard Lingerie Bags worked out great. I was always able to keep one attached to the clothes hamper. When I tossed one in the laundry basket to wash I grabbed the other one and hung it on the clothes hamper. It was such an easy thing to do, that I started doing it automatically and never thought twice about it. The 2-pack WashGuard Lingerie Bags for Laundry can be purchased on ixbetterhome.com for $9.99 with free shipping site wide. #ixbetterhome
Lullaby Music
When S was a baby we discovered at about 6 weeks when he heard the song "Need You Now" by Lady Antebellum it calmed him down almost immediately. I have no idea why this particular song did the trick but it did and still does today almost 6 years later. When S would get hurt I would hum this so song and it calmed him right down. We carried a CD of the song in each car in case he was crying in the car. We played this song continually every night since then until now. He has a hard time sleeping without it. Luckily we no longer have to play a CD but can play an MP3 on a little speaker we got. With P I just assumed this song would work magic like it did for S. We started playing it right away. It didn't calm her right down but I noticed when I shushed her it calmed her down so I shushed this song to her. We found the ocean sound on a sound machine is the closest to a shushing we can find. So she listens to ocean waves when she is sleeping.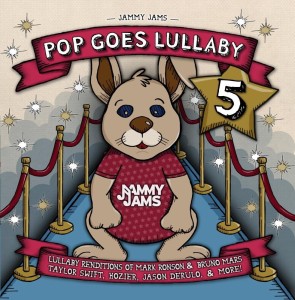 In our house, it makes sense to play music or noise when the kids are sleeping because it helps drown out the noise of us moving about and the dog barking. My sister used to play a lullaby CD each time at bedtime to help calm and soothe my nieces down. The Jammy Jams: "Pop Goes Lullaby 5" is a great lullaby for your little ones to listen to. Ten Pop songs have been turned into instrumental lullabies. I love listening to this myself and found P would come see what I was listening to when it was playing. The "Pop Goes Lullaby 5" contains the following songs turned into lullaby renditions:
"See You Again"-Wiz Khalifa
"Take Me To Church"-Hozier
"Blank Space"-Taylor Swift
"El Perdon"-Nicky Jam & Enrique Iglesias
"Upton Funk"- Mark Ronson & Bruno Mars
"Sugar"-Maroon 5
"Want to Want Me"-Jason Derulo
"Thinking Out Loud"-Ed Sheeran
"Love Me Like You Do"-Ellie Goulding
"Bad Blood"-Taylor Swift
The Jammy Jams "Pop Goes Lullaby 5" can be purchased on Amazon.com either the MP3 for $8.99 or the Audio CD for $15.99. #popgoeslullaby5
Baby Carrier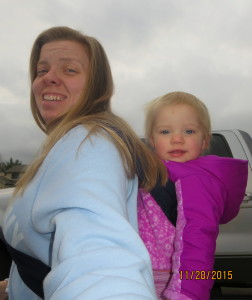 A baby carrier is a must. It is so convenient to be able to put your newborn baby in a carrier and have them right there with you. I always had a front carrier which I liked because when the kids were tiny they would face me and be snuggled close. As they got older I was able to turn them around so they could see what was going on, yet they were still close to me. It made going places that were super busy so much easier because I didn't have to get the stroller out.
The Mei Tei Style Carrier is so versatile. You can use it to carry a newborn in the front so they are close to you or an older baby on you back. It is like the perfect way to give your child a secure piggy back ride. The Mei Tei is made of cotton and is a deep navy color with embroidery to give it some style. I attempted to use this as a back carrier and had a heck of a time with the instructions. They just did not make sense. When you wear the carrier in the front you cross the straps over your back. Do you do that for the front? I did and it literally was like my boobs were holding onto the whole carrier. I went over to my neighbors because she has an Ergo so I figured she could help me figure this out. We tried using it without crossing it over my chest and it pulled on my shoulders/arms right at the end. I was worried the carrier would slip right off my shoulders. I read a few other reviews and they said go to You Tube to see a video of how to wear it on your back (Thanks CandidMommy). I did and am glad I did. You do not cross it over the front of your body, but it does hang on just your shoulders. I will try this a few more times to see if I can get used to it and feel secure with P in the back. The Mei Tei Style Carrier can be purchased on Amazon.com for $22.95. #OZNCommerceBabyCarrier
Memory Book Keepsake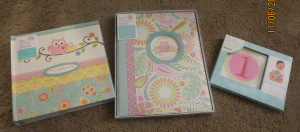 I love scrapbooking and planned to scrapbook for both kids. I got almost all of S's first year done (He is almost six. I'm totally behind.), and have not even started P. The good thing is I do a memory calendar and write down what happens in them so I can go back and scrapbook the events with correct dates and information. I was really good with S making digital scrapbooks on top of the paper scrapbook pages. Again with P I haven't done anything. Thank goodness for those calendars to keep track of them growing up.
I got the C.R. Gibson Happi Baby Girl Gift Set which included a memory book, photo album, and belly stickers. I loved the memory book because it does make a nice makeshift scrapbook for those who like the looks of scrapbooking but are not a scrapbooker. It also is nice for those who are busy but still want to write down major milestones. I have started using this for P so at least she will have something.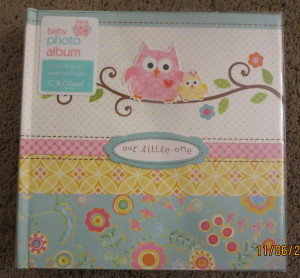 The photo album has lines in the margins so you can make notes of what is happening in each picture. In the age of digital media it is not nearly as common to get pictures printed. So when you do get them printed you want to have them organized in a nice album to remember.
I knew that I wanted to do something to remember each month when both kids were a baby till they turned one. I got their pictures taken every month the first year. I loved doing it because I was able to theme the pictures according to what holiday or season it was currently. With P I had B make wooden blocks and I cut out letters and numbers so I could get a picture of P with them. I really loved the belly stickers, but they have only recently gotten so popular that you can find them everywhere. I love that these stickers coordinate with the memory book so they will match when you put a picture in the book.
This is a great coordinating set and I could not be happier with it. I love the design of the owl, flowers, paisleys, stripes and more that cover the memory book, photo album, and month stickers. It is all girlie but not too much with blues, yellows, and greens included. The C.R. Gibson Happy Baby Girl Gift Set can be purchased on Amazon.com for $59.99. #BabyMemoryBook
Disclaimer: I have never claimed to be any great writer. So any mistakes that are made are my fault. Sometimes I mix up names B, S, and P, but I think you can figure out who I am talking about. If you find any grammatical errors just fix it in your mind so it sounds right.