December 27, 2015
Comments Off

on Baby Products You Need, Think You Will Need and Shouldn't Waste Your Time On
Disclaimer:  I received this product for free or highly discounted in exchange for an honest review.  All thoughts and opinions expressed are mine.
When it comes to having a baby and the products that you need, it can be a love/hate relationship.  There are several items I bought when I had S, wished I had for S, bought for P because I never had them for S and some items that are completely out there and was no way I could even think about purchasing for either child.
Here are some products I found made it so much easier: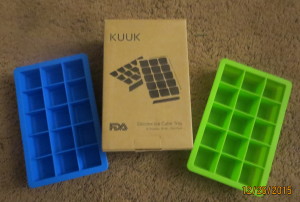 Kuuk Silicone Ice Cube trays work for so much more than just making ice.  I made all the baby food for both of my kids.  I still make baby food and turn it into smoothies for the kids.  I like to make the food and freeze it in ice cube trays.  By using these silicone molds that make square cubes it makes it so much easier to stack and bag them in the freezer.  By being able to make neat stack I can store more in the freezer so it will last year round.  The silicone trays were so easy fill and level off to set in the freezer.  When it came time to get the cubes out of the trays it was easy to manipulate the tray to pop the cubes out.  The Kuuk Silicone Ice Cube Trays twin pack can be purchased for $7.95 on Amazon.com.  #KuukSiliconeIceCubeTray
Basics Best Reusable Food Pouch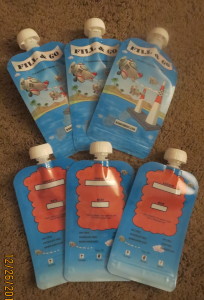 When my first was little we bought the baby food pouches because they were so convenient to take when we went places.  He could get all of his veggies and fruit along with being full.  With my second we never bought any of the food pouches because we never really needed too.  She will eat whatever we are eating and is by no means a picky eater.  Since she will eat anything I decided to go ahead and try reusable pouches.  I have found they are relatively easy to fill and the seal on the bottom of the pouches is hard to seal but stays sealed.  I have never had an issue with them opening from the bottom which was my biggest worry.  They are easy to wash.  I rinse them out and then put them in the dishwasher.  The Basics Best Reusable Food Pouches (6-pack) can be purchased for $13.99 on Amazon.com.  #Planepouch
Baby Hoopoe Baby Bandana Bibs for Drooling-2 pack or 4 pack
I love the Baby Bandana Bibs and wish they were around when my son was a baby 6 years ago or really a year ago when my daughter was a baby and drooling.  They are by far the cutest and most stylish way to wear a bib when the baby is drooling and not look like you are wearing a bib.  The bibs are made of a polyester microfiber backing that keeps the moisture away from the baby's skin and a cotton front that has a fun design on it to match outfits or make a statement.  There are two snaps on the back of the bib to adjust to size accordingly.  There is some give in the material so they will continue to fit as the baby grows.  My daughter is 19 months old and still fits wearing one of these bibs no problem.  The Baby Hoopoe Baby Bandana Bibs for Drooling-2 pack or 4 pack can be purchased for $10.99 (2-pack) or $15.99 (4-pack) on Amazon .com. #babyhoopoe
Soins de bebe Breastfeeding Cover 3-piece set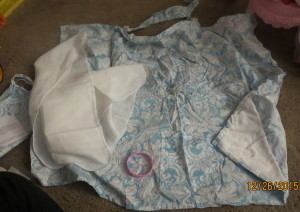 Nursing covers are a must in this day and age when you decide to breastfeed your child.  There are many reasons for wanting and needing a nursing cover.  The reasons you may want one is to be able to feed your child out in public and be comfortable doing so.  You can also see your child while you are feeding them because of the boning in the neckline to create a half loop to view your child.  The child may also need the cover to avoid the distractions of looking around when trying to feed.  This cover comes with a small pocket on the front where a toy or pacifier can be stored while feeding.  One corner of the nursing cover has a terry cloth material sewn on the inner side which may be used to wipe up spit-up while feeding.  This set comes with a muslin swaddle blanket which is always a bonus for a baby.  Who can't use more blankets?  The nursing bracelet is also an added bonus to help those tired moms keep track of the last time they fed the baby.  Those first few weeks can be difficult and trying to remember the last time the baby ate can be almost impossible.  The Soins de bebe Breastfeeding Cover 3-piece set comes in blue or purple patterns and can be purchased for $18.95 on Amazon .com.  #Soinsdebebe
Fancy Mobility Backseat Car Organizer with Visor Organizer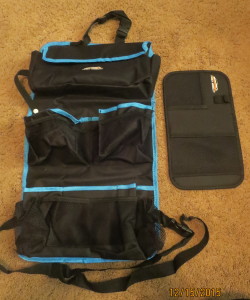 I did not have a backseat organizer until just recently and thought they were silly and not necessary.  I was so wrong.  The backseat organizer makes it so much easier to keep the backseat of my car organized.  I now have one for my son's side of the car and it holds all his gadgets.  I love that it can hold all the small trinkets, his books, and tablet along with his drink.  Because he sits in a booster he cannot easily reach the cup holder that is in the car.  Now he has a place to store his cup.  Because it has worked out so well for S I figured I had to get one for the other side to organize all of P's toys and supplies.  I now can easily find her wipes, binkies, and toys to keep her busy when we are in the car.  With the visor as a bonus I can easily put my turnpike ticket in it and know where it is when I have to pay the toll.  It also works great to hold the car wash vouchers that B buys.  The Fancy Mobility Backseat Car Organizer with Visor Organizer can be purchased for $19.97 on Amazon.com.  #FancyMobility
NippyLid Eco Friendly Baby Bottle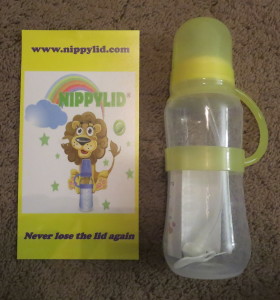 Both of my children were breastfed babies but I also wanted to make sure they would take a bottle, so I did give them bottles, be it breastmilk bottles, but bottles none the less.  I pretty much stuck with the bottles that went with the breastpump I used for convenience more than anything.  While am no longer breastfeeding my youngest she does take her milk in a bottle because she refuses to drink it out of a sippy cup.  While the bottle is great, the real prize of this is the bottle lid (NippyLid).  It is universal and works for almost any bottle as a bottle cap.  It has a silicone ring that wraps around your bottle so the lid does not get lost when your child is drinking the bottle.  No more having to retrieve bottle caps from under couches, or fetching them when your child throws them out of their stroller.  This has been great for us when we have been out and about during the Christmas season.  The NippyLid Eco Friendly Baby Bottle can be purchased for $12.99 on Amazon.com.  #nippylid
Onthegobaby Pacifier Clips-3 Pack
If you have a binky baby, which I had two, pacifier clips are a must.  I am a germ nut and hate having the binky touching everything.  This helps to prevent the binky/pacifier from falling on the ground.  I know some parents could easily put the pacifier in their mouth to rinse it off for their child.  I could never do that, it grosses me out to even think about sticking a dirty pacifier in my mouth.  My oldest is now 6 years old and we have used pacifier clips for that long (minus the time between when my son gave them up and my daughter was born).  The Onthegobaby pacifier clips come in fun colors that are gender neutral.  The elastic that is wrapped around the pacifier is thick and when tugged on does not stretch out.  The clips are not my favorite.  I do not care for the metal aspect of the clips for a few reasons.  I don't want my child chewing on the metal clasp.  I think it can hurt their teeth and really just don't want metal in their mouth.  The metal clasp is the other reason I do not care for them.  I think the teeth are too sharp and can leave marks on the clothes or bibs they are attached too.  The Onthegobaby Pacifier Clips 3 pack can be purchased for $15.99 on Amazon.com.  #onthegobaby
Auto Trunk Organizer from Vipinzon
I never needed a trunk organizer for my cars before kids.  Who knew there was so much stuff that needed to be included in the car for children?  In the car I always carry a diaper bag, extra wipes, some toys, stroller, grocery cart cover, bottles of water, and more.  When I put it all in the trunk organizer it keeps the backseat of the car so much more clean.  This trunk organizer is so convenient to use because when I am not using it, I can easily collapse it down so I can fit large items in the back of my SUV.  The Auto Trunk Organizer from Vipinzon can be purchased for $38.95 on Amazon.com.  #VIPINZON
Here are some baby products I thought would make it easier and really were of no use:
Boho Mama Organic Breastfeeding Shawl Nursing Cover Maternity Scarf Pregnancy Poncho
I loved using a nursing cover when I fed my children out in public.  More so for my first child than my second.  I think maybe I didn't really care as much the second time around but with my son I used one.  Nursing covers are so much more easy to use than a blanket when you are trying to discreetly feed your child in public and do not want others to feel uncomfortable.  I loved the idea of this cover and thought it would be so cute to be able to actually wear it as part of my outfit and not just use it when I was nursing my baby.  I didn't really like the looks that were shown as examples of how to wear it when you were pregnant.  Most of the time it emphasized your stomach when I usually just wanted it to look cute and not huge.  I thought I could wear it as a scarf and change it into a cover when it was needed.  The material was a soft bamboo that had a slinky feel to it.  It came with two snaps on it so you could wear it multiple ways.  Unfortunately, the first time I tried the scarf on one of the snaps came completely off.  I had my husband put it back on but it was not a very clean reattachment.  I found the only way to wear this as a scarf is to wrap it around my neck and tie it in the back.  I do not want a huge knot on my upper back lower neck.  It definitely caused some discomfort.  Wearing it as an infinity scarf was out.  I was able to loop it and wore it around my neck but there was quite a bit of material leftover.  Overall I think I would just stick with a regular nursing cover.  The Boho Mama Organic Breastfeeding Shawl Nursing Cover Maternity Scarf Pregnancy Poncho can be purchased for $36.99-39.99 depending on the color you choose (black, gray, or purple) on Amazon.com.  #BohoMamaBreastfeedingWrap
Easy Mom and Baby Paci-Minder Pacifier Holder-3 Pack
As I said above I love pacifier holders, but these really did nothing for me.  The pros that I had with the other set are not included on this set and the cons are much stronger.  The loop intended to go around binkies or toys is not elastic so it does not have that give in it.  The clip itself has plastic teeth on the inside of the metal clip.  The metal is still on the outside for the baby to chew on and the plastic teeth are super sharp and you can see the impression they left on the thin piece of cardboard they were attached too in packaging.  If they did that to think cardboard imagine what they will do to delicate baby clothes.  The one pro is I did love the bright colors and patterns of the material.  The Easy Mom and Baby Paci-Minder Pacifier Holder-3 Pack can be purchased for $12.99 on Amazon.com.  #PaciMinder
Most people would not want bugs crawling around there children in the house, but want a safe way to get rid of them that is not harmful to the children or pets.  This All Natural Insect Killer sounds too good to be true.  It is said to kill cockroaches, ants, mosquitos, spiders and more.  I was really hoping it would kill stink bugs.  In my part of Ohio, we have a stink bug epidemic.  They are everywhere.  When it is warm outside and the sun is shining they will be crawling all over on the outside of the house.  There is really no safe way to get rid of them other than to kill them one by one.  They are given the name stink bugs for a reason…..they smell when you smoosh them.  I have given up on the smell factor and take a fly swatter and kill everyone possible I can find outside on the back of the house and on the decks.  It looks like a massacre in our backyard on the cement and decks.  There are dead carcasses all over the place.  I wanted something I could actually spray on the bugs and around the house to kill them and keep them away that was safe for my children and dog.  On a sunny day when the stink bugs were out in droves I went crazy and sprayed them when they were crawling on the house, the deck and on the cement patio.  I literally sat there for a half hour and watched them to see if any of them stopped moving, died, or were dying.  The insect killer says it kills larvae, eggs and adult insects by breaking down the exoskeleton.  The proprietary formula breaks down their exoskeleton until the bugs liquefy and die.  It does not kill on contact but will kill after a few minutes.  After 30 minutes most of the bugs were still crawling around like they had been sprayed with water.  I sprayed 8 different stink bugs and 6 of them were still around after the 30 minutes.  The other two disappeared.  I saw one fly away and the other crawled back up under the siding.  For this reason I put it under the category of thought it would make it easier but really of no use.  If you want to try the All Natural Insect Killer it can be purchased for $17.97 on Amazon.com.  #naturalinsectkiller
Here are some baby products that I said no way was I purchasing these for my children.  For many reasons but really from a practical standpoint I couldn't justify spending money on these items when I always need to buy diapers.
I am not one to dress my children up in silly costumes or my daughter in really frilly clothes.  The idea of having her wear a baby tutu just because she is a girl is not for me.  It is just extra clothing that is not necessary and gets in the way.  As you can see from the pictures I thought it was cuter as a veil.  The tutu says it fits 2t-size 7.  That is a pretty big range, and should be labeled Toddler Tutu or Child's Tutu, not Baby Tutu.  I originally thought it was going to fit a newborn which is a cuter idea for a picture but other than a picture there is no real purpose for the tutu, maybe dress-up.  The Baby Tutu comes in 8 different colors and ranges in prices from $3.37-$6.98 on Amazon.com.  #BabyTutu
Large Crystal Crown Tiara Slider Baby Headband from SBParts
It took me quite a while to warm up to P wearing headbands.  I now let her wear some but not wild and crazy ones.  I loved the tiara and thought it would be super cute to try.  Well I was disappointed with everything about it.  The tiara was on an elastic string.  The tiara itself was actually heavier than I thought.  It was metal and I was actually scared it might scratch the baby's head.  I put this on my neighbor's newborn and was afraid it would hurt her.  Thankfully it didn't.  I tried this on P but it did not even come close to fitting on her head.  The Large Crystal Crown Tiara Slider Baby Headband from SBParts can be purchased for $3.69 with free shipping on Amazon.com.   #BabyTiara
Fuzzy Green Unisex Children/Kids/Baby Knit/Crochet Winter Hat and Scarf Set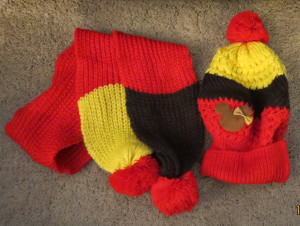 While every child who lives in the cold climates needs a hat to wear, this set was not the most efficient.  The hat was extremely tight around the opening and then very loose around the rest of the hat.  When I put it on P (who has a huge head) it was way too big on her and squeezed her head where the opening was.  So it was hard and tight to put on and then tons of hat leftover just hanging out.  At this point I don't want to put a scarf on P to wear unless she is going to play out in the snow.  If she is going to play out in the snow I would prefer to put a thicker and wider scarf on her to cover her face and neck.  The hat and scarf were itchy and would most likely irritate P's skin.  While they were cute I don't see myself hand washing the hat and scarf.  I would like to have something more convenient that can be tossed in the washer and dryer.  The Fuzzy Green Unisex Children/Kids/Baby Knit/Crochet Winter Hat and Scarf Set comes in four different color choices and can be purchased for $11.99 with free shipping on Amazon.com.  #BeanieScarfSet
Disclaimer: I have never claimed to be any great writer. So any mistakes that are made are my fault. Sometimes I mix up names B, S, and P, but I think you can figure out who I am talking about. If you find any grammatical errors just fix it in your mind so it sounds right.