October 31, 2015
Comments Off

on AYL Bluetooth Outdoor Speaker or Headphones Review
Disclaimer:  I received this product for free or highly discounted in exchange for an honest review.  All thoughts and opinions expressed are mine.
I really never got into using Bluetooth.  We got a little speaker for S and I could not believe the quality and sound that came from this tiny speaker.  I really like using the Slacker app on my phone, but don't really care for sound the speakers in phone.  We have a sound bar for in the house but nothing for me to use outside
My phone has a built in Bluetooth so I decided to give an AYL SoundFit Portable Outdoor and Shower Bluetooth 4.0 Speaker.  I cannot believe the quality of sound that came out of this speaker.  It was like I was listening on our sound system in the house.  The sound was crystal clear.  I couldn't believe I was getting that much out of this tiny box.  The speaker came with a strap which S told me he could use to hang the speaker on his bike.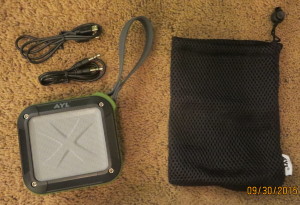 The AYL SoundFit Portable Outdoor and Shower Bluetooth 4.0 Speaker is $29.95 on Amazon.com  Click here  to order your AYL SoundFit Portable Outdoor and Shower Bluetooth 4.0 Speaker. #AYLSoundFitWaterproofBluetoothSpeaker
Those times when I want to go walking with P and listen to music off my Slacker app I can use the AYL Bluetooth Headphones QY8.  These headphones give such a quality sound.  The headphones can pair with 2 devices at the same time. This give the ability to listen to music and be able to answer phone calls at the same time.  I was just excited to be able to walk P and not have a cord connecting me to my phone in the stroller.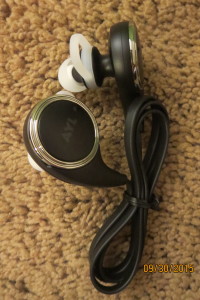 The AYL Bluetooth Headphones QY8 is $24.99 on Amazon.com.  Click here to order AYL Bluetooth Headphones QY8.  #AYLBluetoothSportHeadphone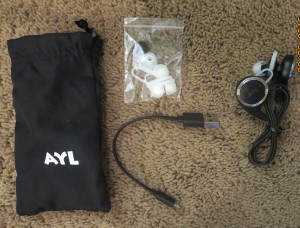 I was chosen to review the AYL Bluetooth Headphones or Outdoor Speaker through Tomoson.com.  Basically how it works is you select items you would like to review and if they chose you, the product is purchased through Amazon.com.  If you have a Prime Account with Amazon shipping is free and a coupon code is provided from the company making the product free or highly discounted.  In exchange they are looking for an honest review on their product.
Disclaimer: I have never claimed to be any great writer. So any mistakes that are made are my fault. Sometimes I mix up names B, S, and P, but I think you can figure out who I am talking about. If you find any grammatical errors just fix it in your mind so it sounds right.