November 4, 2015
Comments Off

on Arthletic Women's Silicone Wedding Band Review
Disclaimer:  I received this product for free or highly discounted in exchange for an honest review.  All thoughts and opinions expressed are mine.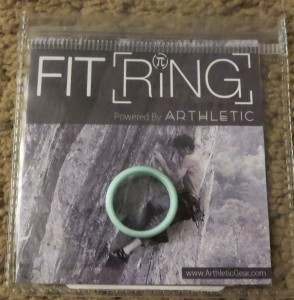 I have reviewed so many men's silicone wedding bands and never had the opportunity to try one that really fit my fingers.  I want to know what the big deal is about silicone rings.  I get it now.  They are actually comfier then the traditional wedding band.  It bends and moves with your hand so you don't have to worry about hitting your finger and it hurting.  I can actually wear the silicone ring and continue to type on the keyboard.  Sometimes when I wear my wedding ring it feels constricting when I try to type, like it won't let my ring finger move fast enough.
Initially I ordered a size 6 ring; because that is what size I thought my ring finger was.  Well the band was too big and fit my middle finger instead. After taking pictures I realized they sent me a size 7.  I contacted the company and ordered another one in a size 5.  The size 5 ring fit perfectly.  It was super comfortable and I completely forgot I even had it on.  I cannot say that about my wedding ring and band.  I never forget that they are on.  I always feel them.  Most of the time I don't wear my wedding rings, but with this silicone ring I can see myself wearing it a ton more.
The Arthletic Women's Silicone Wedding Band comes in four fun colors Aurora Blue, Borealis Green, Lilac Purple, and Space Black.  The bands come in a 4, 5, 6, 7, 8, 9, or 10 ring sizes.  The Arthletic Women's Silicone Wedding Band is only $19.99 on Amazon.com.  Click here to order your Arthletic Women's Silicone Wedding Band. #fitring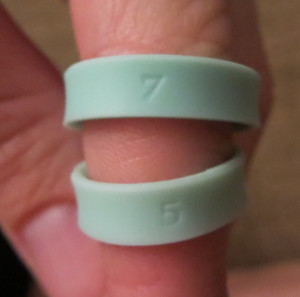 I was chosen to review the Arthletic Women's Silicone Wedding Band through Tomoson.com.  Basically how it works is you select items you would like to review and if they chose you, the product is purchased through Amazon.com.  If you have a Prime Account with Amazon shipping is free and a coupon code is provided from the company making the product free or highly discounted.  In exchange they are looking for an honest review on their product.
Disclaimer: I have never claimed to be any great writer. So any mistakes that are made are my fault. Sometimes I mix up names B, S, and P, but I think you can figure out who I am talking about. If you find any grammatical errors just fix it in your mind so it sounds right.