March 27, 2016
Comments Off

on All-Natural Mosquito Repellent Bracelets-Pack of 5 Review
Disclaimer:  I received this product for free or highly discounted in exchange for an honest review.  All thoughts and opinions expressed are mine.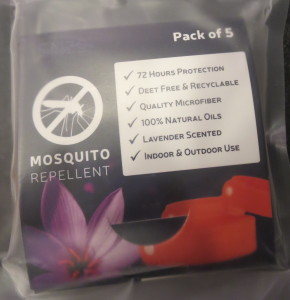 I don't normally go toward organic or all-natural when it comes to sunblock, shampoo, or conditioner.  For some reason when it comes to bug spray I try everything possible not to use it.  I can't explain my reasoning, I just don't like it.  I am lucky because I rarely if ever get bit by mosquitos and they never become red or inflamed, so I never use bug spray.  When it comes to the kids I tend to not put bug spray on them and can only remember doing it once to S when we went camping and I had to wear bug spray.  These bracelets are the perfect solution.  They are deet free and made with 100% natural oil (citronella oil) scented with lavender, peppermint, and lemongrass.  The bracelets are environment friendly with no plastic and recyclable.
I saw my first mosquito a few weeks ago and have continued to see them since.  With our mild winter I can only imagine how bad they are going to be this spring, summer, and fall.  I have started putting these on P's strollers when we go for walks as a preventative measure and at dusk time on the back of her outfits.  She doesn't even realize they are there and if it helps to keep the mosquitos away all the better.
The All-Natural Mosquito Repellent Bracelets-Pack of 5 is only $17.75 on Amazon.com.  Click here to order All-Natural Mosquito Repellent Bracelets-Pack of 5.  #enzobracelet
I was chosen to review the All-Natural Mosquito Repellent Bracelets-Pack of 5 through Tomoson.com.  Basically how it works is you select items you would like to review and if they chose you, the product is purchased through Amazon.com.  If you have a Prime Account with Amazon shipping is free and a coupon code is provided from the company making the product free or highly discounted.  In exchange they are looking for an honest review on their product.
Disclaimer: I have never claimed to be any great writer. So any mistakes that are made are my fault. Sometimes I mix up names B, S, and P, but I think you can figure out who I am talking about. If you find any grammatical errors just fix it in your mind so it sounds right.