November 11, 2015
Comments Off

on Aimboo Multi-Functional Money Belt Review
Disclaimer:  I received this product for free or highly discounted in exchange for an honest review.  All thoughts and opinions expressed are mine.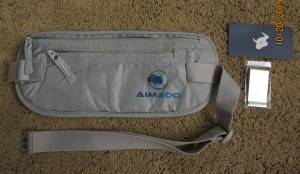 When I was younger and went to New York City I had so many people tell me that pick pocketers were everywhere.  You couldn't wear a backpack purse.  If you had a purse on your shoulder you had to make sure to keep your hand underneath it so someone couldn't walk by, cut the straps, and take the bag.  Oh, did I mention the first time I was 16 and on a school trip?  So I guarded my purse closely and was so stressed I didn't really get to enjoy walking the streets in New York.
If I had this money belt back then it could have been a whole different experience.  The Aimboo Multi-Functional Money Belt is thin enough that I could have worn it under my clothes and no one would have been any wiser.  Or I could have taken it back 5 years and worn it on the outside of my shirt and they called it a fanny pack!  This isn't nearly as roomy as a fanny pack was but it is basically the same idea.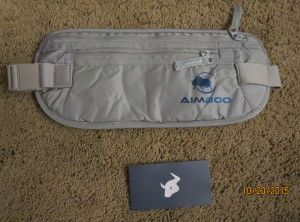 While it could have been less stressful, I don't know if I would have worn a fanny pack over or under my shirt.  I don't know that I could do it now.  I have never been a fan of the "fanny pack."  The money belt did come with a money clip as a bonus.  It was a nice clip.
The Aimboo Multi-Functional Money Belt is only $18.00 on Amazon.com.  Click here to order Aimboo Multi-Functional Money Belt.  #amazonreviews
I was chosen to review the Aimboo Multi-Functional Money Belt through Tomoson.com.  Basically how it works is you select items you would like to review and if they chose you, the product is purchased through Amazon.com.  If you have a Prime Account with Amazon shipping is free and a coupon code is provided from the company making the product free or highly discounted.  In exchange they are looking for an honest review on their product.
Disclaimer: I have never claimed to be any great writer. So any mistakes that are made are my fault. Sometimes I mix up names B, S, and P, but I think you can figure out who I am talking about. If you find any grammatical errors just fix it in your mind so it sounds right.