November 4, 2015
Comments Off

on Acquapura Personal Water Filter Review
Disclaimer: I received this product for free or highly discounted in exchange for an honest review. All thoughts and opinions expressed are mine.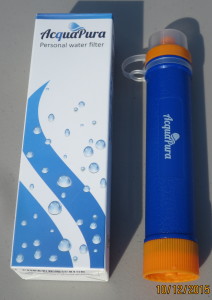 Last summer we had a "Do Not Drink the Water" enacted on everyone who gets there water from Toledo. This caused a huge run to the stores to buy every bottle of water available. The problem is that Toledo does not supply water to just Toledo but to tons of outlying cities. Perrysburg just happened to be one of them. The water supply comes from Lake Erie. There is an algae bloom that happens every year due to pollution. With that algae bloom comes the bacteria microcystin. Last year it came to unsafe levels that were so high not only were we not to drink the water, it was also recommended not to bathe the old or young in the water.

Last year with a newborn that was an issue. She was having blow-outs and always needed some sort of washing down. I needed to drink as much fluids as possible because I was breastfeeding. Luckily B found out about the do not drink issued because I was up in the middle of the night with P. He happened to turn on the TV and saw the warning. With that he left right away and went to buy as much water as he could. Most people went straight for the bottles of water completely neglecting the gallons of water that sat right next to them. B grabbed a ton of gallons of water and a few packs of bottled water. We were good with what was necessary to drink and made do with taking showers and baths. We didn't even use the water to brush our teeth. This went on for three days, but we didn't drink the water for three months.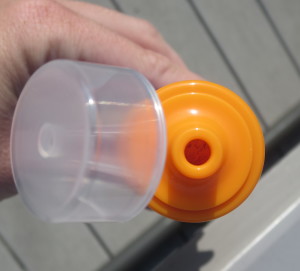 If I had had an Acquapura Personal Water Filter last summer the Do Not Drink warning would not have been an issue. Because even this past summer there was enough concern with the water that we voluntarily stopped drinking the water and went to bottled water. They were finding trace levels of microcystin and that was enough for us to stop drinking. Again the Acquapura Personal Water Filter would have been very useful so I did not have to buy so much bottle water.
The Acquapura Personal Water Filter is only $22.00 on Amazon.com. Click here to order the Acquapura Personal Water Filter. #acquapura
I was chosen to review the Acquapura Personal Water Filter through Tomoson.com. Basically how it works is you select items you would like to review and if they chose you, the product is purchased through Amazon.com. If you have a Prime Account with Amazon shipping is free and a coupon code is provided from the company making the product free or highly discounted. In exchange they are looking for an honest review on their product.
Disclaimer: I have never claimed to be any great writer. So any mistakes that are made are my fault. Sometimes I mix up names B, S, and P, but I think you can figure out who I am talking about. If you find any grammatical errors just fix it in your mind so it sounds right.